FG removes NTDC boss, names replacement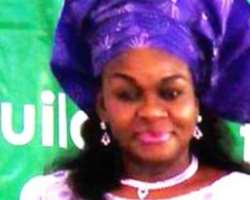 The Acting Director-General of the Nigerian Tourism Development Corporation (NTDC), Mrs. Mariel Rae-Omoh, has been relieved of her post, with  Dr. Paul Adalikwu appointed as the new acting D-G.
Adalikwu will hold the position pending the appointment of a new helmsmen.
The action taken by the Federal Government also affected 15 senior officials, who were allegedly  arbitrarily promoted in defiance of civil service rules, were demoted.
According to reports, the measures were in line with the restructuring of the corporation, which has been involved in crisis in the past few months.
Following the receipt of a petition, Minister of Information and Culture, Lai Mohammed asked a committee to look into the crisis of confidence in NTDC.
 A top source said: "Based on the findings of the committee, the NTDC Acting Director-General, Mrs. Mariel Rae-Omoh, was directed to revert to her former status. Dr. Paul Adalikwu was appointed as the new Acting DG pending either his confirmation or appointment of a substantive holder by President Muhammadu Buhari."
Adalikwu is the third Acting D-G after the removal of the immediate past Director General of the Nigeria Tourism Development Corporation (NTDC), Mrs. Sally Mbanefo.
Mrs. Mbanefo was removed on November 27, 2016 through a letter by the Secretary to the Government of the Federation, Babachir David Lawal, an engineer. Boniface Ebuka was appointed as Acting DG but replaced barely a month in office.
The source added: "Also, the promotion of 15 senior staff has been reversed by the Office of the Head of the Civil Service of the Federation because their elevation was not in line with the civil service rules.
"These actions are just the first in the series of overhaul of the NTDC. The corporation is always involved in one crisis or the other. But the Minister of Information and Culture will address the challenges in the agency."
Besides arbitrary promotion of workers, some of the problems in NTDC include recruitment of about 50 personnel without due process, certificate scandal, curious spending of over N600 million in the last two years, disappearance of N38.3 million financial assistance from some banks and conflict between the management of the corporation and the Amalgamated Union of Public Corporations, Civil Service Technical and Recreational Service (AUPCTRE).
Others are alleged mismanagement of N12 million for the launch of "Fascinating Nigeria", blowing of N81.7 million on empowerment programme in 2013 and N38.5million in 2014.
Others listed include alleged misuse of N52,014, 821 released to NTDC as capital budget from March to July 2014, the whereabouts of N342, 654,807 overhead budget from February-September 2014, curious withdrawal of N35million after SURE-P had organised and sponsored Tour Guide Training Programme and alleged spending of N14,720,000 on Notting Hill Carnival in 2013.