OGUN STATE GOVERNMENT SET IGBESA ABLAZE OVER CHIEFTAINCY TUSSLE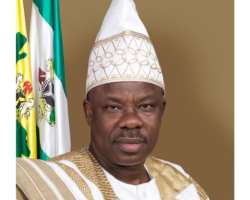 Gone are the days when Awori land experience no war until the last regime of Otunba Gbenga Daniel when there was communal war at Ado-odo.
The present administration under Senator Ibikunle Amosun is now trying to set the same goal in Igbesa as the whole town are cracking down to the commissioner for local government and Chieftaincy in person of Chief Waliu jide Ojuko to appoint regency council.
For the commissioner to follow SECTION 26 SUB-SECTION 3 PARAGRAPH A-E of Ogun state Chiefs law enacted in the years back that subsequent commissioner has being using, in his own interest ignored it by appointing ( Chief Imam, Chairman CAN, Iya Agan, Afose, Osunba the only surviving kingmaker and none indigene of Igbesa in person of Olaide Ajose from Ikogbo.
To our own investigation he is acting base on the invitation he granted one of the contestants ( Abdulazeez Oluwatoyin Akinde) to USA in December 2016 where he spent a week and was given two million naira. He is also acting to the money he received from another contestant ( Haruna Adebowale Ohunromi) and this development has been reported to the Ekerin of Ota by Asiwaju of Igbesa in person of Chief Olagbayi and also reported to Arugbo the chairman of local government service commission by some Chiefs in Olaja Ekun of Igbesa Palace all in the name of they are from Ota.
The commissioner Chief Waliu Jide Ojuko has once invited the expected Chiefs as stated by the Chiefs law and told them what to do if appointed and read the section of Chiefs law to them, that, is there right to be appointed as regency council, but if the person entitled to be appointed declines such appointment the holder of the Chieftaincy next below in rank of seniority shall be appointed.
To our surprise none of this Chiefs has decline such appointment rather the commissioner is claiming to have done an interview for the Chiefs and that they are not up to the task. I implore well meaning Nigeria to ask Chief Waliu Jide Ojuko where in Chiefs law empowered him to do so or if at all he interviewed any of the Chiefs. To this, there are four kingmakers in Igbesa where only one is surviving. To that effect where there are four kingmakers he is trying to appoint eleven Chiefs which is outrageous, he is to appoint minimum of five Chiefs according to section 26 sub-section 3(a) of Ogun state Chiefs law, with the number of kingmakers, he is entitled to appoint maximum of seven Chiefs.
The Chiefs to makeup the regency council according to the Chiefs law are:
1. Elero of Igbesa the most senior traditional Chief and chairman Adele Oba
2. Ajana of Igbesa
3. Aro of Igbesa
4. Ojomo of Igbesa representing Ipetu from Idomo quarters
5. Afose of Igbesa , the secretary Igbesa council of Obas
6. Osunba of Igbesa, the only surviving kingmaker
7. Odemo of Igbesa.
Rather the commissioner appoints
1. Chief Imam of Igbesa
2. Chairman, Christian Association Of Nigeria
3. Head of traditional worshipers
4. Iya Agan for masquerade
5. Osunba of Igbesa as he is automatic to the council being the only surviving kingmaker
6. Afose of Igbesa , the secretary Igbesa council of Obas
7. Pa Olaide Ajose an indigene of Ikogbo nominated as warrant Chief in Igbesa
8. Timothy Ojugbele
9. Rasheed Bantefa
10. Yisa Aro
The Ogun state government under Senator Ibikunle Amosun should call Chief Waliu Jide Ojuko the commissioner for local government and Chieftaincy to order not to set ablaze a town that has no record of war nor has two kings for over 500 years of existence in archive.
The Ogun state government should remember the economy potencial of Agbara/Igbesa LCDA where there are over 100 companies. The free trade zone in the heart of Igbesa Kingdom consist of 50 companies and the overall going to 57 companies in Igbesa where both Federal and State government generate huge IGR from and if the said commissioner is allowed to cause any problem in Igbesa it will go a long way.
The peace we enjoy in Igbesa should not be truncated by Ogun state government as we stood by him during electioneering this should not be the pay back. The demise of Oba Banuso since 2014 has caused Igbesa a lot and the whole town is interested in appointing regency council and the commissioner has been told since his inception in office, we don't know why he is taking his time to appoint them only as at January 2017 that is now clear to us why the delay tactics comes up, just for him to appoint unexpected people both indigene and non-indigene.
For the first time in history we would be hearing an Imam or Pastor appointed as warrant Chiefs to elect an Oba.
He who must come to equity must come with clean hand Chief Waliu Jide Ojuko must be checked as all he is trying to do will divide Igbesa and send the same signal as that of Ado-Odo which will paralyze the economic potential of Igbesa and tell on the companies transactions as well as the IGR generated which the commissioner is benefitting from.
To this I will implore well meaning Nigerian, Media both Federal and State government to intervene with immediate effect in order to curb the planned war by the commissioner.
Charity begins at home is the proverb clearly stated as the commissioner has no value in his home town and as well as his family that is about to present king in Ota. This said commissioner is an honorary Chief in Igbesa but I think he has forgot.
Thorough investigation should be carried out on the commissioner and in Igbesa by appropriate authority.
Long live Igbesa Kingdom
Long live Yewa/Awori Land
Long live Ogun state
Long live Federal Republic of Nigeria
SIGNED
Chief M. K. Akapo
Ajana of Igbesa
08034061530
Chief M. A. Sanusi
Aro of Igbesa
08033520199
Disclaimer:

"The views/contents expressed in this article are the sole responsibility of the author(s) and do not necessarily reflect those of The Nigerian Voice. The Nigerian Voice will not be responsible or liable for any inaccurate or incorrect statements contained in this article."