You Cannot Be A Judge In Your Own Case: Ohanaeze Tackles Buratai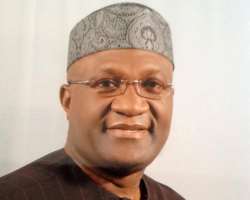 BEVERLY HILLS, March 9, (THEWILL) – The President General of the Ndigbo apex organization, the Ohanaeze Ndi-Igbo, Chief John Nnia Nwodo, has picked holes in the inquiry by Chief of Army Staff, Lt General TY. Buratai, into the alleged killing of members of the Indigenous Peoples of Biafra IPOB and the MASSOB by troops of the Nigeria Army
Nwodo said in a two page statement declared that General Buratai's inquiry cannot stand the test of objectivity and therefore its outcome would not be acceptable to the umbrella body as he expressed regret that his ceaseless call for judicial commission of inquiry on the army brutality fell on deaf ears until Amnesty International got involved.
"In Ezu River in Anambra State twenty-one bodies floated for two months without anyone identifying them up till today. Claims that they were MASSOB members hacked down by combined Police and Army personnel remain uninvestigated," he wrote.
"In Aba IPOB members were gunned down by soldiers for just gathering to hold a meeting.  No investigation was done.
"In Portharcourt IPOB claims eleven of their members were gunned down by soldiers. I called for an inquiry nothing happened. Instead further killings were done in Asaba.
Nwodo said that Ohanaeze is not opposed to the Army Chief carrying out an internal investigation in his service but noted that "the findings of such an investigation will neither be acceptable to Ohaneze nor stand the test of objectivity until it is subjected to an impartial body.
"The basis of our rule of law is that you must not be a judge in your own case."
Nwodo expressed regret that the Army Chief is further exacerbating the mood of IPOB members by his threat that Nigeria cannot be divided in his lifetime describing it as is unnecessary.
"That kind of talk conditions the mind set of his troops to think that they are at war with these agitators. The constitution of Nigeria guarantees freedom of association, assembly and speech.
"So long as the agitators are peaceful and unarmed they are entitled to protection by our security services," he said.
He reminded the Army Chief that the agitation for Biafra can only succeed if the National Assembly orders a plebiscite and majority of the people in the area vote for it and warned that the democratic expression for it cannot be halted by guns.