IFE CRISIS NOT AN ETHNIC CRISIS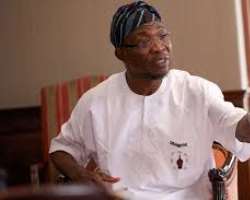 In the early hours of Wednesday, reports of crisis between Hausa and
Yoruba in Ile Ife- Osun state flooded the social media, in which 5
people were reportedly killed.
Different newspapers reported different stories about the cause of the
crisis, but none of the stories were close to the truth since they all
claimed it was an ethnic crisis between Hausa and Yoruba when the
facts as contained in their report says otherwise.
Here are the facts as reported by different newspapers:
• TheCable reported that trouble started on Tuesday after a vehicle
driven by a Yoruba man hit the wife of a Hausa trader. Some youths
were said to have attacked the driver with machete and this angered
members of the National Union of Road Transport Workers (NURTW) who
chose to fight back to defend one of their own. The security agents
deployed in the town were said to have foiled an attempt by the NURTW
members to gain access into Sabo community, where the majority of
those who attacked the driver came from.
• In its own report, Business Day newspaper reported that sources in
Ile-Ife told its correspondent that crisis erupted when a Hausa man
was caught in bed with the wife of an indigent of the town.
• Another national newspaper, Punch in its report claimed that the
fight was caused by a misunderstanding between a Yoruba man and an
Hausa man at Sabo area of Ife. The Yoruba man was said to have been
beaten by some Hausa traders and he in return came back to the market
with his group to confront those who beat him.
For the purpose of clarity, ethnic conflict is not a conflict between
two individuals of different ethnicity or groups over business or
other natural conflict in human interactions. Ethnic conflict is a
conflict between two or more contending ethnic groups. But the crisis
in Ile Ife has nothing to do with ethnicity. It is merely a kind of
conflict that often arises from natural human interaction.
However, it is saddening that media organizations in the country are
now becoming notorious for deliberately twisting reports to create
tension and escalate ethnic divide. They report distorted news in
other to portray certain ethnicity in negative light and widen the gap
between people of different ethnicity.
While social bloggers that are not tutored to report professionally or
guided by any known rules may be excused for their irresponsible
reporting, established newspapers that prided themselves as
professionals and guided with certain code of conduct cannot claim
ignorance. Newspaper editors must therefore be aware of the
destructive tendencies of this kind of reportage.
From the three (3) contradictory reports above, one fact was
established. The crisis has nothing to do with ethnicity per se, it
was more of a badly managed crisis between two people, which
subsequently transformed to crisis between two groups.
For the same media that reported the above facts to then describe the
conflict as an ethnic crisis between Yoruba and Hausa beat our
imagination.
Similarly, none of the newspapers verified the killing of anyone, even
though their headline all creamed 5 killed in Ile- Ife. We must then
ask, what do these newspapers gain from unnecessarily heating up the
polity with distorted report of ethnic crisis?
In the course of our investigation, we reached out to our friends
around the area for verification and they did confirm the incident,
but none of those we spoke can confirm if anyone was killed. They
however noted that some people were injured and properties destroyed.
We therefore appeal to all media organizations in Nigeria to ensure
they report incidents as they truly are, not to distort report to
portray imaginary ethnic conflict where none existed. Many people have
died in reprisal attacks fueled by distorted information.
We also appeal to social media commentators to desist from trying to
portray each others ethnicity in negative light through spreading and
promoting false and distorted information.
AMB. Abdulrazaq O Hamzat
President, Foundation for Peace Professionals
[email protected]