Chief Dan Orbih, the Serial Voucher Man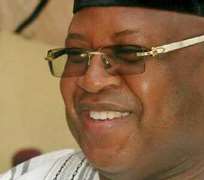 For Nigerians who attended elementary schools in the 70's, Abdul, the dubious character always out to swindle everyone within sight, remains an unforgettable character.
In particular, they will remember, even in a hurry, how he attempted to swindle his king by pretending to be the courier of a golden cloak from an angel to the king. In so doing, he made it clear that no one else, except the righteous, only to the chosen, men of upright characters can see the celestial gift.
Aware of his nebulous character, the king pretended to have seen the cloak and actually went the extra mile of going along as Abdul helped put it on him. Determined to prove that he was as smart, the king also presented an equally invisible bag of gold to Abdul on the supposition that only the righteous can see it. Not desirous that others found out his trick, Abdul went out with the imaginary bag, bent double in pretended reaction to its weight. But it was a case of "cony man die, cony man bury am".
Though the Abdul scenario is just a fable for teaching young children about the need for developing honesty as a policy of life, there appears to be a modern version in Edo State. That is, if one considers the dubious antics of the inimitable Dan Orbih, Chairman Edo State Peoples Democratic Party, PDP.
At the height of the Oshiomhole's administration, the people of Edo State were constantly made to behold the Ogbonna born Orbih as one character bent on reducing the governor, Comrade Adams Aliyu Oshiomhole, to a profligate figure by constantly producing PDP inspired and non-certified vouchers and receipts purportedly employed to siphon public funds into private accounts.
But, for discerning people of the state, there was hardly any doubt that the non-certified vouchers were part of a deliberate propaganda machinery to undo the past and present administrations of the All Progressives Congress, APC in the state, amounting to a display of shallowness by the opposition party Chairman and his party, PDP in displaying destructive and unintelligent criticism and argument that is in contrast with modern and civilized clime of opposition politics. Little wonder he was largely ignored.
One would have expected that with the avalanche of vouchers he presented to the public as gospel-truth evidence of Oshiomhole's profligacy, the Iyamho born immediate past governor would be either in jail or a permanent guest of the Economic and Financial Crimes Commission, EFCC and other anti corruption agencies by now. Unfortunately for Dan Orbih and his co-travelers, that is not the case.
However, as a proof that he failed to realize that his antics did not influence the people into taking him as a believable character, he is out again producing his dubious vouchers and receipts purporting them to be evidence of the profligacy of the current administration led by Governor Godwin Nogheghase Obaseki, whom he accused of being busy siphoning state funds on the pretext reaching out to international investors.
As always, he failed to realize that as it is with spiritual matters where miracle seekers must make the first move of faith, Nigeria and indeed its federating states must reach out in order to win the hearts of (particularly international) investors who have become wary of anything Nigerian due largely to the odious relics of his party, PDP's nearly two decades of corrupt leadership.
But, as it were, the obvious truth is no longer difficult to figure out. That is, beyond being dumb to the demands and realities of modern governance, Orbih is convinced that being the dubious voucher vendor is practically the sanest route to relevance.
Disclaimer:

"The views/contents expressed in this article are the sole responsibility of

Endurance Ihungbe Oboite

and do not necessarily reflect those of The Nigerian Voice. The Nigerian Voice will not be responsible or liable for any inaccurate or incorrect statements contained in this article."