NORTH-EAST HUMANITARIAN CRISIS, CATASTROPHIC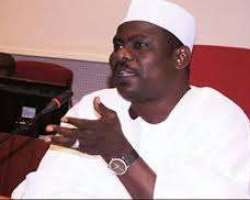 Senator Mohammed Ali Ndume representing Southern Borno at the Red Chambers of the National Assembly has said that the humanitarian crisis in Borno and the North-east in general is Catastrophic and calls on international donor agencies and international communities to step up their humanitarian assistance.
Ndume who made the call in an interactive session with journalist in Maiduguri said Nigerians seems not to understand the humanitarian crisis in the North-east and Borno state in particular.
"when I was passing the streets of Maiduguri, every 100 people you see, 90 of them are women and children,and unless concerted effort is done in the areas of empowerment and education, they will become a time bomb in the near future", Ndume added.
The Senator said the Federal government has earmarked N45 billion to the humanitarian crisis in the North-east, which is not adequate and calls on individuals, cooperate organizations and state government to assist in the post insurgency reconstruction efforts in the region.
Speaking on the recent visit of the All Progressive Congress(APC) leader Senator Bola Ahmed Tinubu, Ndume commended him for finding the time to come and commission some reconstruction projects
in the state, adding that his visit and commissioning projects in the villages of Borno indicates that peace has returned to the state.
Also speaking on the recent move by the customs to ban vehicles with fake customs duty, the Senator stated that he is strongly behind the senate move, as customs have no
right to impound vehicle moving on the streets of the major cities in the country, pointing out that the Customs should look
inward and stop the issuance of fake duties, as it is their personnel that forge the papers.
He said very soon himself and the human right activist, Femi Falana will sue the Nigerian customs if they insist on their planned action, stressing that at this critical time Nigerians are going through as a result of economic recession, more hardship should not be inflicted on them.