White House dismisses Trump's reported meeting with Russian ambassador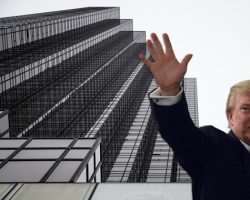 The White House is downplaying reports that then-candidate Donald Trump met the Russian ambassador to the United States at a 2016 campaign event, just before Trump delivered a speech that called for "an easing of tensions" with Russia.
The reports of Trump's April 2016 encounter with Ambassador Sergey Kislyak comes just days after two of Trump's top advisers — former national security adviser Michael Flynn and Attorney General Jeff Sessions — became embroiled in controversy following the revelation that they each spoke with the ambassador prior to the Inauguration.
Kislyak was seated in the front row as Trump delivered a 45-minute foreign policy address at Washington's Mayflower Hotel, ABC News reported Sunday.
"If they met, it was in passing at arrival reception hosted by National Interest which [Trump] was present at for all of 5 minutes," a senior White House official said Saturday. "We arrived minutes before the speech began and departed immediately after."
Last May , the Wall Street Journal reported that Trump met the ambassador at a private reception prior to speech, sponsored by the Center for the National Interest, a non-partisan think tank.
A White House official today said that the Russian ambassador did not attend the speech at Trump's invitation and that the Trump team was not responsible for inviting or vetting guests.
"We have no recollection of who he may have shaken hands with at the reception and we were not responsible for inviting or vetting guests," the official said. "To state they met or that a meeting took place is disingenuous and absurd."
Trump has repeatedly derided suggestions of connections between his associates and suspected Russian officials as " fake news " and "fabricated" by disgruntled Democrats. "I have nothing to do with Russia. No person that I deal with does," Trump said in February.
Trump's speech in the hotel ballroom offered an early look at the candidate's approach to foreign policy. In addition to the Russian ambassador, then-Sen. Sessions was also in the audience. At the time, Sessions was serving as a senior campaign advisor.
"I believe an easing of tensions and improved relations with Russia – from a position of strength – is possible," Trump said in the speech.
Contact between Kislyak and Trump campaign aides has been a repeated source of controversy. Flynn was forced to resign in February and Sessions had to recuse himself from any investigation into the presidential election after each had first denied contact with Russian officials, only to later acknowledge that they spoke with Kislyak prior to Trump taking office.
At his confirmation hearing, Sessions testified that he "did not have communications with the Russians" amid intelligence reporting that the country had interfered in the election, the Justice Department confirmed last week that Sessions twice met with the ambassador during 2016 while was serving as a senator from Alabama and chairman of Trump's National Security Advisory Committee.
Sessions' spokeswoman maintained that he was acting in his capacity as a member of the Senate Armed Services Committee and the attorney general said he was correct in his testimony to Congress during his confirmation hearing.
Upon his forced resignation, Flynn admitted to speaking multiple times with Kislyak and "inadvertently" providing "incomplete information" to Vice President Mike Pence about the nature of the conversations.
The White House additionally confirmed last week that Trump's senior adviser and son-in-law Jared Kushner was present for a meeting with Kislyak at Trump Tower in New York in December.