GOV. GANDUJE CALLS FOR IMPROVED COORDINATION OF DONOR ASSISTANCE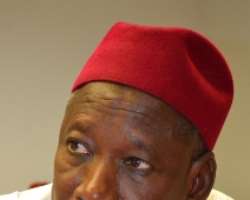 Governor Abdullahi Umar Ganduje of Kano state has stressed the need forimproved coordination between governments and donor organizations to make development assistance more efficient and effective.
The governor stated this while declaring open a 2 days meeting on the state International Development Partners and Donor Coordination Forum today at Africa house, Government House Kano.
"The need for effective coordination between government and donor organizations would make development assistance more efficient, effective and responsive to the funding need of government as well as addressing the critical socio-economic needs of the people and at the same time satisfy the cardinal objective of the Agencies" Governor Ganduje asserted.
He maintained that proper coordination would ensure that, financial commitments of donors are adequately captured in the State's annual revenue and expenditure projections to enhance budget performance and adherence.
The governor, therefore, expressed optimism that meeting "would ensure effective and improved donor cooperation through joint approaches and pooling of donor contributions within the context of working with sub-national entities as well as building a strong network of donor partnership towards the achievement of the State development plan objectives and Sustainable Development Goals-SDGs".
He added that the meeting would generate a comprehensive database of all development partners working in the State for better coordination and integration into state development programmes by its Planning Agency, for proper synergy and co-operation among the development partners, as is the case at the Federal level.
The governor used the occasion to express appreciation to donor agencies working in the state for their understating and cooperation to his administration especially in view of the prevailing economic recession in the country.
In his remarks, the state Deputy Governor, who is also the Commissioner for Education, Science and Technology, Prof. Hafiz Abubakar highlighted the role being played by the international agencies in transforming the basic education sector of the state, hoping the trend would be maintained.
The event, which was organized by the State Ministry of Budget and Economic Planning in collaboration with USAID/RTI LEAD Project, is aimed at fostering the state development agenda through strong partnerships.
Salihu Tanko Yakasai
DG Media & Communications
Government House Kano
March 7th, 2017.