X-RAYING THE ROLE OF ASTOGRN IN NIGERIA'S OIL AND GAS INDUSTRY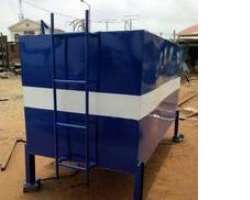 Recently, the national leadership of the Association of Surface Tank
Oil and Gas Retailers of Nigeria (ASTOGRN) held its National Executive
Council meeting in Abuja, where they deliberated on the challenges
currently facing activities of their members as well as the prospects
for members.
After a general review of its activities, it was observed that part of
the challenges facing members are incessant police harassment and
willful refusal to sell oil and gas products to members of the group
by the country's main oil company, the Nigeria National Petroleum
Corporation (NNPC).
Specifically, the group lambasted officers and men of the Nigerian
Police Force who allegedly extort money from their members and disrupt
their businesses despite the fact that they are duly registered and
have their operating license from the Department of Petroleum
Resources (DPR), the government agency saddled with the
responsibilities of regulating oil and gas activities in Nigeria.
The group also expressed concern on the lukewarm attitudes of the NNPC
who sometimes refuse to sell Premium Motor Spirit (PMS) popularly
known as petrol, Dual Purpose Kerosene (DPK) widely known as kerosene,
Automotive Gas Oil also known as diesel and other products to its
members.
The group accused the NNPC of only paying attention to members of the
Independent Petroleum Marketers Association of Nigeria and members of
the Major Oil Marketers Association of Nigeria (MOMAN), while
neglecting its own members despite its huge contribution to Nigeria's
economy.
The group particularly berated the NNPC for not showing enough concern
towards the development of rural economy which is what their members
are boosting in no small way.
As a group that serves as the bridge between the rural economy and the
urban economy, members of ASTORGRN does not deserve the current
discouraging treatment they are getting from the NNPC says Prince
Marcus Okotete, an operator in the downstream sector.
ASTOGRN State Chairmen that attended the meeting were; Chief Akinola
Dorcas of Ekiti State, Bishop Markphason of Bayelsa State, Adama
Abdulsalami Mafindi of Taraba State, Labaran S. Wunti of Bauchi State,
Anna A. Asachaya of Adamawa State and Banyulla Halla of Gombe State.
Others were, Shefi'u Umarmalami of Jigawa State, Oyetade J. Akinwale
of Kwara State, Aishatu Mbaka of Nasarawa State, Dalhat M. Tanimu of
Kaduna State, Hadiza H. Danga of Kebbi State, Abdu Buba B. Bebeji of
Kano State, Aisha Garba of F. C. T., Habibu Zainu of Katsina State,
Aisha Mubera of Sokoto State and Zainab M. Abubakar of Niger State.
The rest includes; Madam Patience A. Uche of River State, Engr. Alagbe
Saheed of Osun State and Mrs. Josephine Philips of Akwa-Ibom State.
In similar vein, Board of Trustees members of the group includes;
Alhaji Yunusa Tanko, Dr. Godwin Uku, Hon. Usman Bater Ali, Mrs. Salome
Chakkat Dashe, Chief Lawrence Ufebe and Chief Dr. B. O Bnabena.
However, it amounts to hypocrisy of government's deregulation policy
in the oil and gas industry if members of ASTOGRN cannot easily gets
their product from the NNPC.
By focusing only on operators of Filling Stations, the NNPC and other
related bodies that have connived to deny ASTOGRN members patronage
have shown that they are insensitive to the plight of the rural
dwellers that travel many kilometers to get petroleum products for
local use.
How can the rural economy grow without getting these essential
commodities as easily as possible?
Does that mean the NNPC is discriminating against the rural dwellers
and their economic wellbeing?
When has it become an offence to live in the rural and semi-urban
communities in Nigeria?
Nevertheless, the government recently issued operating licenses to
investors to establish private refineries in the country, but how will
the product of these refineries get to Nigerians without ASTOGRN
members who takes the product to the rural people? Is it not a one
step forward and two steps backward policy?
Apart from developing the rural economy, the fact remains that,
Surface Tank Oil and Gas Retailers have also created jobs for a lot of
persons who ordinarily would have taken to crime as means of surviving
the current economic recession, yet the police and the NNPC are not
really looking at that direction.
Just imagine the kind of stress rural dwellers would have been
subjected to without the intervention of ASTOGRN members?
Since all works that do not involve or related to crimes are noble, we
therefore charge the Inspector General of Police to call officers and
men of the force who harass ASTOGRN members as if there are common
criminals to stop forthwith.
Continuous harassment of ASTOGRN members by the police would be seen
and treated as working against the Buhari administration's policy on
Local Content and deregulation.
In the same vein, we call on the Minister of State for Petroleum
Resources, Dr. Ibe Kachuwu to call the management of NNPC to order for
their lukewarm attitudes in matters concerning ASTOGRN members.
The NNPC should ensure that due process which is at the heart of the
Buhari administration guides it's action concerning ASTOGRN members.