Buhari calls Gowon, Obasanjo from London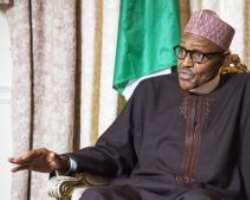 A former   Head of State, General Yakubu Gowon (rtd), has joined the growing list of those President Muhammadu Buhari has called from his London medical retreat.
Buhari called Gowon to commiserate with him over the death of his younger sister, Kande Martha Audu.
Presidential media aide, Mr. Femi Adesina, said in a statement on Monday that the President, who called from London, extended his deepest condolences to General Gowon and his family.
Buhari, according to the statement, Buhari urged the Gowons  to take solace in the fact that Mrs. Audu lived a worthy and exemplary life.
"Death is an inevitable end that must come to all mortals, and we must keep praying and working to ensure that we live a life that pleases our Creator and benefits humanity," President Buhari said.
Buhari also prayed God to comfort the grieving family and grant rest to the soul of Mrs. Audu. Gowon in response thanked President Buhari for the commiserations and assured him of his continuous prayer for the unity and progress of the country.
According to Adesina, the President  also  called former president Olusegun Obasanjo on phone on Sunday, describing him as  a global citizen. He
told the former ruler that "a time like this provides opportunity to reflect on Obasanjo's invaluable roles and contributions to the unity and cohesion of Nigeria, the brotherhood of all Africans, as well as peace and amity over the globe. President Buhari described the former president as "a true citizen of the world."
Recalling their days in the military, President Buhari who was also a former Head of State said: "Those of us who served under you in various capacities recall a man with boundless energy, with razor sharp mind, and one who does not suffer fools gladly. Working with you was a school in itself, and the lessons learnt are worth their weight in gold." The statement added that Obasanjo also wished Buhari good health, saying he "stands together with him in prayers, so that he can return soon to continue the good work he is doing for the country."