Revelation: A cabal led by Mamman Daura has been running Nigeria not Buhari: Junaid Mohammed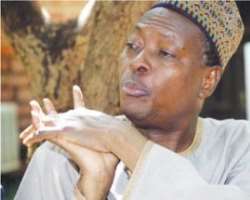 Second Republic lawmaker, Junaid Mohammed has alleged that President Muhammadu Buhari's uncle, Mamman Daura, has been running the country from the background since the All Progressives' Congress (APC took over power in 2015.
Mohammed, who disclosed this in an interview with Nigerian Tribune, also said that it is tragic that Buhari is only comfortable with relating with people from Northern Nigeria.
He further said Buhari's actions as President differed from the social-welfare promises he made during the run-up to the 2015 general elections.
The ex-lawmaker said: "The fact is that this cabal doesn't represent the interest of Nigeria. If you believe you have a problem, the fact is we expect that you are going to do something about it. Now, Nigeria is trapped because the President of Nigeria hasn't been Buhari, but one man called, Mamman Daura. In his entire life, he has never won an election and the only opportunity he had was when in the old Kaduna State, he wanted to be a senator from Kaduna or Katsina and some people wanted Mamman Daura to pick the ticket.
"We have a president who doesn't have a friend, outside the North and that's a tragedy. Nigeria's president must be a man who is nationally and internationally exposed, who appreciates people and feels comfortable with people no matter their religion or ethnic background.
"The truth is that Buhari as a man has issue relating with people he isn't comfortable with. people he is comfortable with represents a tiny minority of Nigerians and as far as I am concerned, you don't have to see yourself either as an Hausa man or a Moslem. None of those makes you eligible for the office because the Constitution didn't say you have to be an Hausa or a Moslem to be the president of Nigeria."
"I sympathise with Nigerians for voting Buhari. Buhari the aspiring politician and Buhari the incumbent president, if you compare and contrast what he says with what he does and from that , you can then draw your own conclusion. As far as I am concerned, a lot of what we heard from Buhari, from his friends, from the leading members of the party was sloganeering and that unfortunately hasn't helped him. What we are hearing now is an attempt to hide the truth from Nigerians and much more confound his problem," he said.