Losing A Generation To Fistula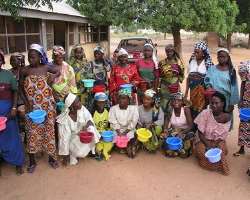 Odimegwu Onwumere writes that despite government's efforts in the media against Fistula, many rural women and girls are still suffering from the menace in their number without proper access to hospital; and experts said that Nigeria has only 20 Fistula surgeons handling about 150, 000 Fistula patients, who are mostly girls, across the country
Aishat Sani, 14, had pushed for a long time in the labour room at a hospital in Kaduna State. It was 4-5 hours and her handlers said that the blood provision to the urethra has stopped, which means in the medical term "ischemic death and drop off".
Sani's channel of urine is intervallic between the bladder and birth canal. She can no longer control her urine as it later comes from kidney and empties into the birth canal. After the experience, she oozes out unpleasant odour resulting to her husband abandoning her. She is now a Vesico Vaginal Fistula (VVF) patient and conversely, being derided by her friends and well-wishers.
While she survived during the child birth but only developed Fistula, Nkechi Lawson, 15, from Ebonyi State, is not living to tell her experiences during a child birth. She is no more, resultant of what stakeholders in the health sector attributed to "unfortunate admittance to quality and reasonable healthcare as well as dearth of emergency obstetric care."
Despite media hype by government and its agents saying that everything VVF, a condition linked with discharge of urine in women was under control, Aishat Sani is one among the many girls and women in Nigeria, especially in the rural areas, who are untreated and cannot access treatment. The United States Agency for International Development (USAID) recently unearthed that many girls and women are badly affected with the disease in Nigeria, with Ebonyi State encompassing the highest of over 3,000 cases.
Across the country, experts' opinion is that the number of girls and women suffering from Fistula has risen to 90 per cent, with about 13, 000 novel cases diagnosed annually. In a chat, a Clinical Associate, Fistula Care Plus, Dr. Suleiman Zakariya was angst-ridden, stating that 150,000 Nigerian girls and women are living with Fistula: The irony is that there're only 20 Fistula surgeons across the country, handling just a minute number of the victims, as against the thousands of number.
Besides this influence, specialists said that not all medical doctors know about repairing Fistula. While many girls and women are affected by Fistula, professionals said that the exercise of early marriage being a major contributory factor to obstetric fistula in Nigeria, in climes like North America and Europe, Fistula has been hounded away more than a Century ago.
However, the UN General Assembly Report in 2011, titled The Girl Child – Report of The Secretary General, stated, "The younger a girl is when she becomes pregnant, whether she is married or not, the greater the risk to her health. Girls under the age of 15 are at more risk of dying in childbirth than women in their 20s." According to the World Health Organisation (WHO), "Adolescent pregnancies put newborns at risk. The risk of death during the first month of life is 50 percent higher among babies born to adolescent mothers. The younger the mother is, the higher the risk for the baby."
In an assessment, Dr. Ejike Orji, Country Representative, Ipas Nigeria, warned against girl child marriage, saying that it's a major contributory factor to Fistula. Orji said, "Early marriage puts girls at great risk for premature child-bearing, disability and death. When a girl is under-aged and is pregnant, the birth canal is not well developed.
"It is narrow and unable to carry the head of the baby. If the baby is forced to pass through the birth canal, two things can happen. The girl, who is a baby herself and has no business having babies, would either rupture her uterus, and both the girl and the baby will die.
"The other thing that can happen is that even if the girl succeeds in delivering the baby after several hours of labour, she will end up with VVF, or if it is in the rural area where there are no skilled attendants, she will develop RVF. VVF occurs as she is pushing; she is stressing the tissues of the birth canal, because the head of baby is bigger than the birth canal."
Checks revealed that about 230 million girls and women (that include Nigerians) worldwide are afraid to be pregnant for the reason of family planning because they do not have entree to novel contraception. Many of the women are even derided in their different villages for the reason of myths surrounding family planning. Mr. Ban Ki Moon as United Nations Secretary General held-responsible the pushiness of Fistula in countries that include Nigeria on extremely pitiable access to reputable maternal health services. He bemoaned this during the 2016 International Day to End of Obstetric Fistula.
Mr. Moon observed that the victims of Fistula annually were not less than two million globally and these were poor and marginalised women and girls. "The persistence of fistula in some countries and regions is an indicator of very poor access to quality maternal health services," he said.
Executive Director, United Nations Population Fund, UNFPA, Dr. Babatunde Osotimehin, accredited in the course of the world Fistula day, saying, "For UNFPA, ending fistula remains one of our highest priorities, and we will continue to accelerate efforts, both in our own work and within the United Nations system.
"The global Campaign to End Fistula, launched in 2003 by UNFPA and partners, has made significant progress towards eliminating fistula and supporting its survivors through prevention, treatment, social reintegration and advocacy. UNFPA has supported more than 70,000 fistula repair surgeries for women and girls in need, and Campaign partners have enabled many more to receive treatment."
In another vein, Zakariya added, "There is need for government to provide needed policies to reduce chances of women coming down with fistula. There is need to improve the health seeking behaviour of Nigerian women and access to family planning. There is also the need to upgrade care for obstetric care to prevent obstetric fistula.
"There is still need to increasing awareness at the community level about fistula, improve the health seeking behaviour of women at the community level, institute girl child education, women empowerment, poverty reduction, road networks and other infrastructures."
This was as Mr. Moon added, "We must strengthen health systems and address broader development and human rights issues affecting women and girls: poverty, gender inequality, early marriage, early childbearing, and lack of education. Fistula has virtually been eliminated in most high-and middle."
Osotimehin whispered, "As we talk about ending polio, HIV/AIDS, female genital mutilation and so many other forms of suffering, so must we commit to stepping up our efforts to end fistula, once and for all.
"This means heeding the call of the 2030 Agenda for Sustainable Development to leave no one behind, especially those most neglected, invisible and powerless, including the women and girls living with fistula. Now is the time, and I am confident we can do it."
Odimegwu Onwumere is a Poet, Writer and Consultant based in Rivers State. Tel: +2348057778358. Email: [email protected]