Enugu govt relaunches Daily Star newspaper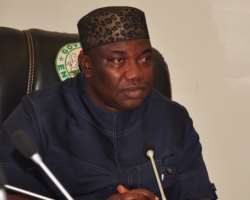 The governor of Enugu State, Rt. Hon. Ifeanyi Ugwuanyi has enjoined the management of the Daily Star newspaper to work hard towards returning the state-owned media house to its days of glory.
Ugwuanyi noted that his administration is determined to bequeath an improved living condition to the people despite the economic recession that has shrunken federal allocation to states.
The governor, represented by his deputy, Mrs. Cecilia Ezeilo, commended the commissioner for information, Dr.Godwin Udeuhele, other members of the state's executive council and the Enugu State Government Printing Press for their support in reviving the Daily
Star.
Earlier in his address, Dr. Udeuhele explained that the newspaper used to be the pride of the Igbo, noting that it was in consideration of its illustrious history coupled with the desire to help the workers retain their livelihood that the governor approved the money for the rehabilitation.
He urged the workers to repay the governor's gesture by ensuring that
the newspaper's former glory is brought back within the shortest possible time.
The commissioner also noted it's instructive the newspaper is returning at a time of massive infrastructural overhaul across the state, and advised the workers not to ignore the grassroots in their news coverage.
Also in a brief remark, the paper's acting managing director, Mr. Christian Odo, thanked Governor Ugwuanyi for giving heed to the yearnings of the Daily Star staff who had for years called for the paper's revival.
The highlight of the event was the unveiling of the revamped Daily Star by the deputy governor.