Oniwon Takes Over As NNPC GMD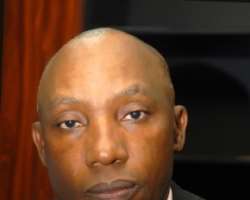 PHOTO: GMD, NNPC, ENGINEER AUSTEN OLUSEGUN ONIWON.
ABUJA, May 20, (THEWILL) - Engineer Austen Olusegun Oniwon has officially taken over as the Group Managing Director of the Nigerian National Petroleum Corporation, NNPC and has assured that he would use his wealth of experience to impact on the oil and gas industry in Nigeria.
Speaking after taking over from his predecessor, Engineer Oniwon expressed his readiness to ensure efficient distribution and supply of petroleum products across the nooks and cranny of the country.
Engineer Oniwon said he was prepared to turn around the fortunes of the corporation for good saying during his time he would ensure that Nigerians enjoy the benefit of being an oil producing country.
Engineer Oniwon noted that several feats were achieved during Mallam Ladan's time saying philosophically that it is not how long one stays in office but how well one impacts on the organization.
He listed the feats to include the cementing of the relationship between the NNPC and the National Assembly as well as the International Oil Companies. He also commended him for building a strong relationship between NNPC management and the staff union and assured of his readiness to sustain the tempo.
He lauded his processor for carrying all the management and staff along and promised to operate an open door policy that would meet the needs of all stakeholders in the oil and gas industry in the country.
In his remarks, the outgoing GMD Mallam Shehu Ladan thanked the management and staff for their cooperation and urged them to give their maximum support to the new GMD.