South-East Governors Forum meet in Enugu, first time in two years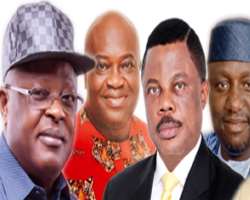 Governors of the five Southeast States met in Enugu on Sunday for the first time since the 2015 general elections. Ebonyi state governor, Dave Umahi was unanimously elected the Chairman at the meeting of the forum attended by all the governors from the zone in Enugu on Sunday.
According to News Agency of Nigeria (NAN) report Gov. Okezie Ikpeazu of Abia, who announced the development after a closed door meeting, told reporters that the lot fell on Umahi to lead the group because Abia and Anambra had had their turns in the past.
"I want to specially recognise the oldest member of this forum, Gov. Rochas Okorocha of Imo and Gov. Willie Obiano of Anambra.
"We have just risen from a meeting and it is my pleasure to officially introduce the chairman of the South-East Governors' Forum in the person of Gov. Dave Umahi.
"He is our chairman today because Anambra and Abia have taken their turns in the past and we are moving forward from Ebonyi flank at this moment," Ikpeazu said.
Speaking later Umahi said his election was an honour to lead the forum even though he might not be the most qualified.
"I want to thank my brother governors and to accept the leadership position my colleagues have pushed on me.
"Not being the most qualified but they decided that I should be the chairman of the forum at a time like this. I want to thank them with all sense of humility," Umahi said.
This is the first time since the 2015 general elections that all the governors were meeting face to face at the forums' gathering.
Some of the governors had in the past delegated their deputies to represent them.
All News and Reports (ANR) recalls that for some time in the recent past Governors Willie Obiano and Rochas Okorocha of Anambra and Imo States respectively had been at each other's throat, a situation which has never augured well for cooperation among the regions governors. In fact Okorocha during the days of their quarrel blamed his Anambra counterpart for allegedly undermining the progress of the Southeast as the governors could not have any meeting in view of the ugly situation.
Now that the South East Governors have decided to bury the hatchet, put aside their political differences and personal ego to revive the Forum's meeting, analysts say it is only proper that the governors continue to meet regularly in order to develop a common strategy to tackle the region's myriad of problems which had been neglected because the governors could not find a common ground to speak with one voice.