'I'm 1 Percent African!': Demi Lovato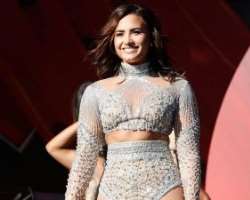 Demi Lovato  has always been one of those pop stars who is not afraid to share her most personal details with her fans — whether it be her  history of addiction , her  mental health , or even her struggles with her weight .
So when the 24-year-old "Confident" singer recently received the results of an ancestry DNA test, it only made sense that she would share her genetic makeup on social media.
"I did a DNA test and found out I'm mainly Spanish, with Native American, SCANDINAVIAN (which I had NO idea), Irish, BRITISH…." Lovato wrote on Twitter Friday. "And I'm 1% African!!!!"
Lovato then shared a photo of the full test results, explaining in a tweet that she hadn't done a DNA test before — and only found out about her ancestry "from certain places" after speaking with her uncle.
Of course, this being social media, some of her followers were quick to criticize the singer. But not one to let Internet trolls win , Lovato said  that she "didn't mean to offend anyone."
"Just thought it was cool and totally random," she wrote . "Some of y'all are mean af. Twitter sucks."
In addition to her ancestry results, Lovato has a lot to celebrate lately — including new boyfriend  Guilherme "Bomba" Vasconcelos.
She and the Brazilian welterweight, 30, were first linked back in July when an insider told PEOPLE they "had a quick fling" that ended shortly after. But the couple recently rekindled their romance, even ringing in the New Year together.
Vasconcelos posted a touching black and white photo with his girlfriend on Wednesday, holding her tight and smiling at the camera.
The caption read, "Baby," along with a red heart emoji.