Acid Bath At Federal University Of Technology, Yola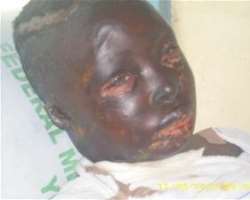 The Federal University of Technology housed in Yola, Adamawa State appear to present a haven for a plethora of gruesome atrocities and decay of morality. This is as ukpakareports.com learnt of an acid bath taken unwillingly by a 1st year student of the institution.
Last week, a 1st year student by the name Franka Ogbuh, a student of Economics was attacked by an unknown assailant armed with a bottle of acid. The assailant poured the bottle of acid on her face. As was later discovered, the attack was meant for the victim's sister.
According to firsthand information gathered by ukpakareports.com, Miss Franka Ogbuh and his friend, Hannah were both studying inside one of the classrooms in the school when a strange male voice called out to the victim by her sister's name. But the victim not being familiar with the voice did not respond. The strange voice continued to call out requesting for her to come to him so he can have a word with her. Neither of the girls responded. Suddenly a male figure appeared from the dark and poured a liquid on Franka and disappeared into the dark. Some of the liquid splashed also on Hannah.
"I felt something chill splashed on my arm and overhead Frank calling out 'blood of Jesus'. It was not long before we both started feeling severe burns that Franka began to shout uncontrollably 'my face, my face, fire' before other students joined in raising alarm over the incident" Hannah recalled.
Miss Franka Ogbuh sustained severe injury to her face and parts of her body. She is presently receiving medical treatment at the Federal Medical Center in Yola. She is expected to undergo facial reconstruction surgery.
Meanwhile, the university authority has condemned the incident vowing to nab the responsible culprits. The head of information for the university, Mr. Mustafa U. Migawa told ukpakareports.com that the institution "would take the fullest measure of the law against the perpetrators of the heinous acts".
Addressing pressmen, the Dean of student affairs called upon the federal government to situate a police post near the university community at Sangere community in order to aid curb the growing criminal activities in the area.
Franka Ogbuh's father told ukpakareports.com that he "has left everything to God"
It can be recalled that recently, a female of the institution in a radio interview claimed that she was a merchant of death – that she had infected 250 people with HIV virus. Last year, two students were brutally murdered by fellow students within the school community in Sangere.
|
Article source