Thousands Expected At South Africa's March Against Nigerians, other African Immigrants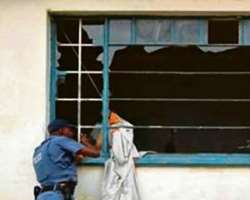 Thousands of South African protesters are expected to descend inside Pretoria on Friday in a major rally targeted at Nigerians and other African immigrants.
"Scores of people" are expected to take part in an anti-immigration march in Pretoria on Friday, Police in South Africa confirmed on Thursday.
The anti-immigration march is being organised by a group calling itself the Concerned Mamelodi Residents.
National Joint Operational and Intelligence Structure (NATJOINTS) said in a statement on Thursday.
NATJOINTS spokesperson Brigadier Vishnu Naidoo said the City of Tshwane had approved the march.
He warned that it was illegal to carry dangerous weapons during the march and urged participants to ensure it was peaceful.
"Any form of hate speech, intolerance or incitement to violence should be rejected by all sectors of society."
The IFP called on authorities to ensure there was no violence or looting during the event.
"All too often such marches tend to become violent and destructive while the actual focus on and concerns of citizens are forgotten," IFP national chairperson Blessed Gwala said in a statement.
Tshwane metro police spokesperson Senior Superintendent Isaac Mahamba said SAPS was handling security.
The Institute for Justice and Reconciliation (IJR) condemned the planned march and said government needy to urgently address the systemic inefficiencies that led to xenophobic violence.
"Community leaders and government officials should avoid using inflammatory xenophobic language which further fuels xenophobic attitudes," the IJR said.
Gwala said while police had been conducting searches and arresting illegal immigrants, these actions had been few and far between. More effort and co-ordination from authorities was needed.
Home Affairs Minister Malusi Gigaba warned businesses that employ illegals on Thursday.
"Companies, businesses: Be warned. We are coming for you. We will charge them, there's no doubt. The manger will be charged. Often times, we focus on the undocumented employee and not the company," he said.
At least 20 shops possibly belonging to immigrants were looted in South Africa's capital overnight, police said Thursday, but they could not confirm the motive.