Fans upset by Monster Energy girls' revealing outfits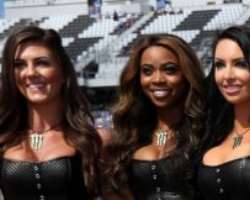 Monster Energy Drink is in hot water. The beverage brand paraded around its famous Monster Girls at Clash at Daytona, a NASCAR event that took place this past Sunday. The girls were scantily clad , as car-racing models tend to be. But this time, for some reason, viewers were not happy about it.
The uniforms consist of black leather corsets , black leggings, necklaces with the drink's logo as a pendant, black boots, and a lot of makeup and hairspray. That's more than the average Kardashian wears to a meeting. But fans were outraged by the look, and took to Twitter to express their feelings.
Some were upset because NASCAR is apparently a family program, and they didn't want their children seeing such scantily clad ladies.
Others went as far as to liken their look to hookers.
And some wished NASCAR would revert back to the girls they used at last year's Sprint models, who were covered head to toe in racing gear
Some users made the point that this is actually a lot of clothing compared to the outfits models have worn in previous races, which included bikinis.
Another pointed out that, compared to the cheerleaders in most sports, this is a lot of coverage.
"Look at the old races when the girls wore bathing suits," Mitch Covington, Monster's vice president of sports marketing, told ESPN . Needless to say, Monster is not budging. "Monster has always been about racing and girls, and that won't change," Covington said.
He compared this year to when Monster first started with NASCAR in 2009: "Our models today were conservatively dressed compared to what they had on back then."
According to ESPN, Covington has had no discussion with NASCAR officials about changing the outfits and "doesn't expect to." In fact, you can expect to see these lovely ladies and their leather corsets at the Feb. 26 Daytona 500.
No. 2 Team Penske driver Brad Keselowski understands why parents watching might be upset but thinks they need to look at the bigger picture. "When you have kids and you start to see the world through their eyes because you're raising them, you see how much differently we all look at the world," Keselowski told USA Today . "Because my daughter doesn't see a scantily clad model — she just sees another person who's wearing black or whatever colors or a lot of leather. She doesn't see sex appeal. She's a kid. … So sometimes people say, 'What about the children?' No, it's more reflective of you seeing this as over-zealous than your kids, because your kids have no idea, and that example could be applied in a number of other areas."
Keselowski added: "I always feel like how you feel about situations like that is reflective of your own baggage, and it's not fair to apply it to others."
What do you think of the outfits? Par for the course or an accident waiting to happen?