RE: Imo Governor Shouts Down Deputy For Nursing 2019 Guber Ambition
...Who is afraid of Madumere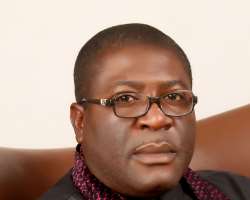 The Office of the Deputy Governor has read in consternation an obvious falsehood published on a blog, 247ureports by mischief makers against the Governor of Imo State, Owelle Rochas Okorocha and his deputy, Prince Eze Madumere.
We would not have bothered responding to such infantile exercise but for the sake of unsuspecting publics who might be hoodwinked by such diatribe, hence, our resolve to state the obvious.
First, at no time ever had the Deputy Governor, Prince Eze Madumere ever sought audience with his principal, the Governor of Imo State over a 2019 ambition to warrant being being shouted down by his boss. We ask, if 247ureports has its facts, could it please publish the witnesses who were present when the incident took place.
Interestingly, those behind this show of intellectual bankruptcy also illogically negated the alleged position of Governor Okorocha whom they alleged to have advised those interested in 2019 to begin to hold secret meetings before open campaigns will be announced by the Independent National Electoral Commission (INEC). This is not only preposterous but rather bereft of analytical sequence.
Truly, we can understand the pains of the pay masters of the scribblers of the said diatribe when they read Madumere's statement saying he can die for Rochas. We cannot help it because Madumere's political mastery lies in the rope-a-dope of humility, stability, trust worthy, passion and above all loyalty with performance. There is nothing to prove an longer that when Madumere speaks, people listen because he is a man of his word. He once said; it loyalty is a crime, will continue to be found guilty." It will also be recalled that Madumere put his life on the line for what who he believes in. How many of these political deficits behind this falsehood can die for themselves let alone another.
Therefore using Madumere's statement when he received members the Rochas Fans Club and Rochas People's Movement as his response to the said allegation may not just be mischievous but a clear symptoms of amnesia.
Those who are knowledgable are aware that Prince Eze Madumere, an American trained technocrat cum politician is in joint ticket with Governor Okorocha and would be more interested in the success of his boss to justify the people's mandate through democratic dividends.
Prince Madumere is a pure breed who is never known for political desperation but has always played by the rules. While we appreciate the self inflicted excruciating pains of his detractors in their failures to drag Madumere into filthy fights, we can only assure them that Madumere will never reduce himself to such level of indecency.
We warn and remind the faceless humanoids behind this mischief that those who live on glass house do not throe stones because any attempt in fighting back, they surely will be visited with an irredeemable calamities.
We also warn those in the business of media to tread with caution and be professional in their reportage or even in their speculative writing. If what we read on 247ureports is anything to go by, then we should cry for the future of the profession.
Uche Onwuchekwa
Special Assistant (Media) to the Deputy Governor of Imo State