I'm not a liar – Lai Mohammed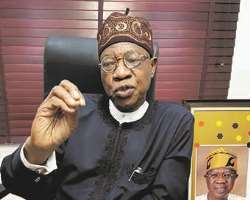 Minister of Information and Culture, Alhaji Lai Mohammed has challenged those calling him a liar to pinpoint one lie he has told to warrant giving a different meaning to his first name.
The minister who spoke in Lagos admitted that being the spokesman of the Federal Government is a bit more challenging than his previous position as the mouthpiece of an opposition party.
Despite that, he said he has no reason to lie about anything because the administration of President Muhammadu Buhari is on course, fulfilling campaign promises.
Let me start on this note, how has it been switching from being the opposition spokesperson to a government spokesman?
Well, it's not exactly the same thing in the sense that you have more responsibilities as spokesperson for government. While as spokesperson for the opposition, your major preoccupation is the supremacy of your party, of course in a very patriotic and nationalistic manner. But then, your full responsibility is responding to your party. Here, you have a responsibility to the entire country, to the government. And here you can't afford to be negative, you can only be positive, while in the opposition party, you could more dwell on the negative aspect of governance. You're always on the attack. But here, you are supposed to promote the good works of government and at the same time, disseminate to the people what the government is doing. And also get feedback from the people on what the government is doing.
That is why you can see we have two major programmes; actually three I would say. You see our town hall meetings, it is designed to not just disseminate news to the people, but also bring back to the government what people feel about the government. And we decided to institute these town hall meetings. Whereas with the town hall meetings, we could talk directly to the representatives of the people and we could get them to really hear what the government is doing.
And two things you would make of our town hall meeting is: number one, it is not just the ministry of information that talks to them but depending on where the town hall meeting is taking place, other ministers ranging from five to seven in most cases would talk about the various things they've done in their ministries and how it affects the areas and the regions where we hold the town meetings. And most importantly, we talk to a cross section of the society, traditional rulers, political class, the labour, organized private sector, students, market women, even people with disability, and NGOs. So, that way, we are able to let people know what is happening.
But because town hall meetings cannot take place every other day or every week, we also have Federal Government of Nigeria Information app, the reason for the app is that it gives real time information about what government is doing for anybody who can download the app.
It's more or less the same thing, but as a minister of information, the responsibility of course is wider than that of spokesperson of a political party.
Having experienced the two, which would say you have enjoyed more?
I have enjoyed both, but one is more tasking. I think being spokesperson for the government is more tasking.
What triggered this interview is the figure you just reeled out in the statement today, and I see reactions, and follow reactions online. A lot of people are angry, one because they feel some people stole this much, and are still walking around free. Some other people are angry because they only hear government is recovering this billion and that billion, but no impact on their lives. How do you explain the situation to them?
I'll take the first one. I think it's natural for people to feel very angry and indignant that many of the perpetrators of these heinous crimes are still walking the streets, and as a matter of fact, not only are they walking the streets, they are behind the various attempts to destabilise the government; the ones behind all these fake news and all this misinformation just to distract the government, and fortunately we are also practising democracy and we have to bring it to the floor. As a matter of fact, very soon, I'm going to release the list of ongoing cases.
You see, it is significant to note that when the administration of criminal justice act was passed into law, the idea was to fasttrack the dispensation of justice especially in criminal cases. Matter of fact under that law, the maximum adjournment for any case should be five, and cases should go on every day with a shorter time to deliver judgment. Unfortunately, both lawyers and all the stakeholders have frustrated this act, with the result that cases are dragging with unnecessary adjournments, unnecessary motions being brought forward. Until we have the complete buy in of the judiciary, and the lawyers especially, we would not take full advantage of the operation of the criminal justice act, which is quite unfortunate. That is what gives the impression that government is not doing anything.
Again, when you see some of the people who are free today, not only are they free, you even see them on television analysing. You see them as pseudo-analysts, more importantly they are even active on the social media, and they are the ones that are de-marketing the government and the country. So, it is quite infuriating. And we believe that the people should also help us, when you see the same way they are protesting lack of this and that, they should also protest against these people, those who are known to have stolen our money.
But on our own side, we would continue to abide by the rule of law. We would plead with the judiciary and the lawyers to make it possible for these cases to be decided. We are not really too keen or obsessed with finding anybody guilty, but even if you are not guilty, let us dispose of your case.
As for what government is doing with the money recovered, I think it is a bit much more complex. I can tell you today, that we are experiencing, encountering a lot of challenges recovering these funds from various jurisdictions; ranging from non-cooperation from most countries where the money is either domiciled, or the interest of certain countries, and some lawyers.
I know a particular case in the U.S where a lawyer is insisting that 40% of whatever is recovered from the loot must be paid to him. And the host country is not helping matters by blocking the return of the loot. However, some countries have attached conditions to the return of these monies, and I think Switzerland for instance; we have agreed with Switzerland that when this money is returned, it would be used for the social intervention programme of government. One thing I can assure is that we would be very transparent. These funds would be used to build infrastructure and alleviate poverty and hardship of Nigerians.
There is still one thing. One of the questions I pick online is that there was probably an understanding before the Buhari administration came in, that it would not touch people like former President Jonathan. Was there a deal or understanding like that?
If there was any, I'm not aware. I'm being frank.
Now coming to your person, I think you have broken record as opposition spokesperson in Nigeria, and now Federal Government spokesman. But it appears the current opposition has also come up to put you under pressure. Some of them said it is what you sowed that you are also reaping, that you gave PDP a hell and so they are justified if they are coming back for you especially those who have virtually turned your name from Lai to liar. How do you react to that?
I think anybody who occupies a public office should know that this sort of thing goes with the terrain. But probably what I was not prepared for was the viciousness, and the pure hatred, and the lack of objectivity and divisiveness that now accompany it.
As a spokesperson for the opposition political party, I was always very factual, I was very objective, and I didn't go personal. And I keep saying, that I challenge anybody to come out and say 'this is one lie you told when you were spokesperson for the opposition'
I challenge these people and I say fault me on facts, and not on emotions. Most of the things you see are purely emotional. Many of them believe that, because I played such a major role in the downfall of PDP, no matter what I do, they would criticize it. I want them to criticise me fairly. I want them to be objective; I'm ready to take them on. Take for instance, one of them went back and said on December 22nd 2009, I issued a statement that the minister of information should give daily bulletin on the health of Yar'Adua and I said you're mixing things up. Number one, Mr. President is not ill; he is not in the hospital. So, there would be no need for me to give a bulletin. Two, Mr. President complied with the constitution when he was leaving. He wrote a letter to the national assembly that he was leaving on a vacation. But during his vacation, he would take the opportunity to do some medical check-ups and while he's away, the Vice-President would be acting president. So, I do not see the situation as the same.
So, to you my answer is very simple, it is that today, what we have is the politics of hatred, politics of grievances and politics of prejudice. And this would divide the polity. But I'm not afraid of being challenged; in fact I love being challenged because I won't go out without my facts. But when you start to quote me out of context, out of share hatred for whatever reason, you go personal, and you are not objective, that doesn't slow me down. But it makes one sad that this country can be reduced to this level, and that politics can be reduced to pure hatred, divisiveness, prejudice and grievances.
In essence those who say you have told many lies are unfair to you?
Not unfair, they are the liars. Because I challenge them: 'what lie have I told?' And they have not come up with one yet.
Now coming to the loot, those from whom funds are being recovered or are surrendering funds, will they still be prosecuted or is there an arrangement where if they surrender funds they would be allowed to go?
I think there are two or three basic ways through which funds are recovered. Some have voluntarily returned their loot, some of them claiming that they never knew that money credited to their account were meant for something else. I think the ministry of justice is considering each case on its own merit, as to what to do and what not to do. Now, there are those who are being prosecuted, in other words, these are people our investigations have shown that they have looted funds and they being prosecuted, at the end of the prosecution of course it is not even in the hands of the executive, it becomes a judicial matter.
Then, there are those today, we have recovered money from because of the whistle blowing policy of government. We are only obliged to protect the identity of the whistle blowers and ensure that they are adequately compensated because we promised them that whoever gives us information that leads to the recovery of loot, would be entitled to between 2.5 but not above 5% of the sum recovered. And there is no going back on that.
Since that policy comes with an incentive, has anybody ever been compensated so far with the number of recoveries?
Even if the answer is yes, I think it would be proper to say no because we promised them absolute total protection. But what I want to assure you is that we would honour our own side of the bargain.
Those that have information, how do they go about it? It is not everybody that has access to the minister of information or Attorney General
As a matter of fact, if you go to our websites, ministry of information, Attorney General's office, EFCC, the presidential committee against corruption, it is listed out and the procedures. When you go to any of these ministries, and even the ministry of finance, there is strict confidence, we take your information, we protect you and we do our own due diligence and if in truth your whistle blowing leads us to a discovery, we carry you along, we make it completely open and you would be entitled to your percentage. I want to say here that a particular fellow whose whistle blowing led to the discovery of N1billion opted not to be compensated because he saw it as a patriotic duty.
Now, can you look into the future and tell Nigerians when this hardship will end because a lot of people are going through hardship?
You see this hardship, when the various policies the government has put in place start yielding the desired fruits. And what are these policies? These are investments in infrastructure. You can see the Minister of Power, Works and Housing traveling everyday, inspecting or engaging contractors in the power sector. You can see the minister of transport also busy negotiating for loans or laying the foundation of rail systems. The Minister of Agriculture is also busy giving farm implements, inputs and advising people on what to grow and what not to grow. Last year, we had a bumper harvest. One bumper harvest is not enough to impact nationally. But I can assure you that in the next couple of months; Nigerians would begin to see clearly a turnaround in the economy. And I think the oversubscription of the one billion euro bond speaks volumes about the confidence the investing world has in our economy. Again, one area that we are doing a lot which people are not appreciating is that we are working very quietly but with a very clear vision on how to reduce the cost of doing business in Nigeria. And in the area of visa regime, we've achieved a lot because for the first time we had a very robust policy that makes it possible for you to obtain our visa on arrival. And today, within 48 hours if you apply for a visa you would be communicated back on what to do. Within 48 hours you would be notified whether your application has been accepted or not. These are some of the things we are doing to ensure that the economy rebounds. - The Sun.