Delta Government Parleys with Host Communities, Set Up Committee To Receive Position Papers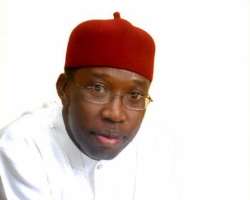 The Delta State Government through the Office of the Attorney-General and Commissioner for Justice has set up a 36 Man Committee comprising of Community Representatives from the various communities in the Oil Mining Lease 30 to capture areas of disagreement in the signed GMoU
The Attorney-General and Commissioner for Justice, Mr. Peter Mrakpor announced the composition of the Committee during a Town hall meeting with President Generals and Community Development Board of host Communities in OML 30 which include Urhobo, Isoko, Ijaws and Itsekiri in the town hall meeting held at Government House, Annex, Warri that lasted for several hours.
The Committee who were given one week to articulate and submit the position of their Communities to the Office of the Attorney-General includes three members each from the twelve Clusters that make up OML 30.
According to the Attorney-General and Commissioner for Justice, the town hall meeting was convened by his Ministry to address all the contentious issues arising from the execution of the Global Memoranda of Understanding (GMoU) between the host communities in OML 30 and NPDC as well as to discuss the proposed takeover of operations by Heritage Cooperation from NPDC.
Addressing the President Generals and Community Development Board members of the various Communities in OML 30 who came out in their large numbers, the Delta Attorney-General disclosed that the State Government was desirous of resolving the incessant disagreements between the Community Development Board and the President Generals of the various communities to pave way for unity and rapid development of their Communities even as he charged all stakeholders to pursue interests that will be beneficial to their communities over personal and primordial interests.
The Attorney-General who succeeded in brokering peace by resolving all the contending issues told the Community representatives that Government will continue to drive the process of negotiating of all MoU between the Communities and Oil Companies operating in their domains and assured them that Government will ensure that Heritage Oil Cooperation who took over operations from NPDC in OML 30 deals with the Communities under the existing well defined structure and ensure that the new company complies with the terms of the existing GMoU even as he kicked against the shutting down of flow stations and operations of the oil company.
Present at the meeting were the Chairman of the Community Development Board, Hon. Morris Idiowa, the Isoko Development Union President, Chief Iduh Amadhe, Chief Emmanuel Aworo and a host of others who advanced various positions on ways of improving community relations between the new operators and their Communities. The community representatives were unanimous in their demand for an inclusive representation in future GMoU negotiation with the new operators which must include President Generals, Representatives of Traditional Rulers and representatives of Community Development Board even as they promised to now articulate their position with one voice as the development of their communities is more paramount.
While commending the Attorney-General for the meeting which they described as robust and fruitful, they expressed their disapproval on the alleged engagement of a non Deltan as a Community Relations Consultant by the new operators, Heritage Oil Cooperation.