RE : ABU LOLO'S GRAND SCHEME TO KILL COLLEGE OF NURSING BIDA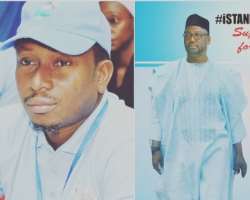 A month after being sworn into office, Governor Abubakar Sani Bello made it clear that, his administration is open to criticism and that, he will be running an all-inclusive style of leadership. Mr. Governor at a time said and i quote "We promised the people based on the mandate given to us to positively affect their lives and we have no excuse not to deliver. We want to see a new Niger State where everyone can access qualitative and affordable basic amenities, such as education, health, good roads and security".
A piece or rather a mischievous piece filled with misinformation, lies and propaganda credited to one Umaru Mohammed Dyadya, Secretary of Bida Forum titled "ABU LOLO'S GRAND SCHEME TO KILL COLLEGE OF NURSING BIDA" wouldn't have merit a rejoinder from the office of the Niger State Honourable Commissioner of Health, but upon a second thought, the mischievous piece is already misinforming Nigerlites which is why the need to respond came up, so as to especially educate Mr. Dyadya on activities of the Health sector under Mr. Governor, Alhaji (Dr) Abubakar Sani Bello who said "I want our work to speak for us and let God judge us. Whatever we decide to do, it must be in the interest of the people,"
Scrutiny of government's policies and projects as guaranteed by democratic norms and ethos are healthy and very much welcomed by this administration, but we are very much surprised by the author's allusion to a nonexistent sectional agenda by Mr. Governor, Alhaji. Abubakar Sani Bello. There can be nothing further from the truth than this unfounded assertion, given the present administration's holistic and evenhanded approach to governance and development.
FOR THE RECORDS, it is very important to inform Nigerlites as well Mr. Dyadya that, the idea and efforts towards establishing a nursing school in Kontagora predates the current administration and the catchment population and Kontagora Emirate council has so far invested huge resources in the project through community efforts. This government is only stepping in to compliment what was previously started as it is being done across all sectors for all people oriented projects inherited from previous administrations.
The bold and commendable step to establish more training institutions in the state is being taken without paying any less attention to existing ones. Presently, the School of Nursing in Bida and the School of Midwifery in Minna are both getting greater attention than what happened in the past administrations with active and verifiable measures being taken to address all the challenges hampering their full accreditation. These measures are aimed at increasing the turnover of health workers in the state while ensuring geographic equity in access to health care training for all Nigerlites.
No doubt, this government inherited quite a number of challenges in the health sector as already enumerated by the author. And this is the basis of our comprehensive and radical health restoration agenda tagged Niger Health 1.0, which amongst other things lays great emphasis on developing a health workforce that is adequate, fit for purpose and fit to practice base on global best practices.
Mr. Dyadya should note that, Governor Abubakar Sani Bello's preferred strategy for achieving this health human resources goal is to optimize the available stock of health workers through adequate incentives, including training, reorientation and supportive supervision. We are equally aware of current trends in the production of skilled health workers, especially nurses and midwives as well as our future requirements. Already, remuneration for the state health workers have been raised phenomenally to equate what is being paid at the federal level as a strategy to attract and keep the best hands for best services to Nigerlites.
We are also expanding the workforce to reduce workload and improve productivity. In 2016 alone, the state recruited 110 health workers after several years of embargo on employment. Presently, the state is witnessing the most massive and holistic health workforce recruitment exercise of its entire history and this is deliberately targeted at adding 300 professional to the existing stock. All these are geared towards positioning the health system to better cope with ongoing reforms and service expansion including upgrading of our General Hospitals and the PHC revitalization initiative.
The new maternal and child health wing of Minna General Hospital is being nurtured and operationalized to be one of the best in the country through local and international training for the staff as well as through collaboration with local and foreign partners. And the good news is that, the results of these deliberate and coordinated efforts are beginning to manifest. For example, for the first time in history, Niger State now has 18 medical and dental consultants in her employment.
It is also important to notify Mr Dyadya that, Niger State Government under the compassionate leadership of Alhaji Abubakar Sani Bello understand the true essence of truthfulness, sincerity and above all, he gives in his best towards ensuring that his words match his actions, an attribute that has resulted to make Niger State top the list of about 5 States in Nigeria that has implemented the 100% CONMESS AND CONHESS Salary scale for all health workers and practitioners.
Finally, true and honest critics criticise with facts, intelligence, sincerity and they do not take advantage of government's policies or in this case INTERVENTION to instigate tribal or ethnical disorder, however, we thank the writer for freely expressing his views as guaranteed under our laws; however, his opinion or "concern" would have been more beneficial to the government and most importantly the good and peaceful people of Niger State if his assumptions and illusions were thoroughly fact-checked before publication. After all , Mr. Governor has always made it very clear that, his administration can do with a large dose of criticisms if only such are positive and targeted at holding his administration accountable to Nigerlites irrespective of their zone, religion and most importantly political differences.
Signed
Dr. Mustapha Mohammed Jibril
Niger State Commissioner of Health
15 - 2 - 2017