GROUP LAUDS SENATOR ALI WAKILI FOR ORGANIZING PRAYERS FOR PRESIDENT MUHAMMADU BUHARI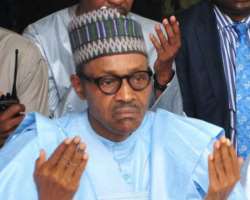 The Ali Wakili Kakaki Media Support Group has applauded the efforts of the senator representing Bauchi South, Senator Ali Wakili who enjoined Nigerians to pray for the speedy recovery of the President rather than
spreading rumours about his health on the social media.
The group in a press statement co-signed by its Coordinator and Secretary, Citizen John Akevi and Danjuma Muhammad respectively, in Bauchi. The group thanks Distinguished Sen Ali Wakili for organizing Muslim clerics in Bauchi state to offer special prayers for the speedy recovery of President Muhammadu Buhari.
The statement read : "We sincerely thank our amiable senator Malam Ali Wakili for organizing the prayer session for President Muhammadu Buhari, his ill health is our major issue of concern, especially the people of Northern Nigeria , due to how he vigorously fought the Boko Haram insurgency to a standstill.
"His commitment, zeal and high sense of patriotism has brought peace to our region and Nigeria as a whole today, we can sleep with all our eyes closed.
"We therefore enjoined both Muslims and Christians to continue to offer such special prayers for our President quick recovery and to continue with his good work.
The Ali Wakili Kakaki Media Support Group insisted that what President
Buhari deserves is our collective prayers.
They said: "Our prayers is what President Buhari needs from Nigerians to improved his health condition rather than rumors.
"Nigerians must rally round their leaders and pray for them, to enable them succeed in steering the affairs of this country. No citizen should wish his or her president death, he or she should rather wish him wisdom, sound health and political will to enable him fulfill his campaign promises to the people."
The Ali Wakili Kakaki Media Support Group has applauded the efforts of the Buhari administration in fighting corruption.
The statement added that "We are not surprised that this administration has achieved this feat considering that President Muhammadu Buhari has for long identified corruption as one of the major problems afflicting the nation.
"As a group, the Ali Wakili Kakaki Media Support Group appeals to all Nigerians to give their unalloyed support to the Buhari administration in its determination to curtail corruption in our public life, and recover all looted funds for the benefit of all Nigerians. We must bear in mind that this administration means well and is working in the best interest of
all Nigerians, and as a people we can only reciprocate by supporting the efforts of the administration.
The group also commended the people of Bauchi South for voting Ali Wakili in the last election and their continue support to his effective representation.
The group therefore, urge the senator to address more infrastructure challenges in the area.