Heritage Bank restructures operations …as winners emerge in 'Happy Days' promo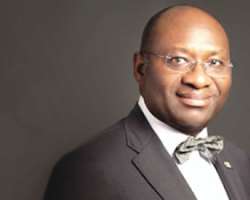 Heritage Bank Plc has restructured its operations in a bid to ensure greater efficiency and resource optimisation.
This, the bank noted is in line with its growth and industry innovative agenda designed to strengthen its businesses across all the markets it operates.
The restructuring process is meant to upscale the bank's activities in the strategic sectors of the economy as well as deploy apt expertise and competences to specific business areas where it enjoys comparative business advantage.
The bank explained that the recent restructuring came after a review of its staff composition, the bank's strategic direction vis-Ã -vis desired industry standards and service deliverables.
Already, the bank has elevated some members of its workforce with higher responsibilities in line with its strategic direction to sustain performance, while there were also casualties, but have been adequately compensated.
Meanwhile, Heritage Bank has rewarded 24 loyal customers in its on-going Happy Days Promo with 42-inch LED flat screen TV at a monthly raffle draws held in Lagos yesterday.
The bank recently launched the six-month promo to reward customers who made N20, 000 deposits into its account on a monthly basis with a 42 -inch LED flat screen TV, a customer with N100,000 deposit at the end of April will be qualified to win N1 million while a customer with N500,000 deposit at the end of May will be qualified  to win a brand new Toyota Corolla saloon car.
Two winners each emerged from across the six geo-political zones of the country: Abuja Group, Lagos Group, North Group, South East Group, South-South Group and South -West Group. In the Abuja Group, where 64 customers qualified for the December draws, Uchenna Egbo and Adams Oshiomole Mohammed emerged as winners while in the January draws, with 58 qualifying customers, Awalite Adaobi Mmachukwu and Ekanem Idaye Grace Charles emerged as winners.
Obimma Osita Innocent and Nwagbo Nonye Anastasia won in the December draws in the Lagos Group while Asomugha Sunday Okwuchukwu win in the January 2017 draws. In the North Group, Namadi Abba and Charity Ogbonna won in the December draws while Chinwendu Akamelu and Muyibat Abdulkarim were the winners in the group in January deaws.
Okoro John Nwankwo and Emeghobo Ifeanyi Chigozie emerged winners of the 42-inch LED flat screen TV in the December edition while Obangwu Dorathy Ngozi and Ozoemenan Adagba James were the winners in the group for the month of January. In South-South, Nmah Ihuoma Onwuka and Lynda Ijeoma Ukachike won in December 2016 draws while Akpan Bill Afia and Mary Effiong Thompson won in the January draws.
Makanjuola Segun Kayode and Aromolaran Mayowa Alade won the December 2016 draws while Christiana Adegbola and Babatunde Tayo Anthonia won the January 2017 draws.
In a keynote address, Mrs. Adaeze Udensi, Executive Director, Retail/SME Bank Directorate of the bank said the six-month promo was flagged off in December 2016 to celebrate existing and potential customers of the Bank.
She said customers of the Bank were expected to make deposits into their accounts to qualify them for monthly raffle draws, adding that any customer who was able to keep N100, 000 in its account at the end of April 2017 would qualify for a draw to win N1 million while at the end of the promo, (May 31) one lucky customer will win a brand new Toyota Corolla saloon car.