Biafra: IPOB opens operational embassy in Spain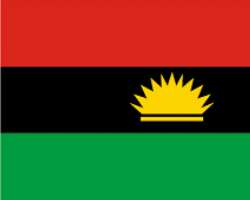 The Indigenous People of Biafra (IPOB) says it has opened an embassy in Spain.
The group is seeking an independent state for the south-east and adjoining areas.
Kayode Ogundamisi, a journalist, shared a video of the embassy on Facebook.
In the video, IPOB directorate head, Uchenna Asiegbu, was seen taking a guest on a tour of the facility.
Leader of the IPOB, Nnamdi Kanu, is currently facing charges of treason, and he has been in detention since 2015.
Kanu, who is regarded as the president of the 'Republic of Biafra', initiated the idea of planting 'embassies' across the world.
The late Odimegwu Ojukwu, a retired army officer and revered Igbo leader, declared the old eastern region-comprising the south-east and the south-south - the Republic of Biafra in May 1967 after a massacre of the Igbo in the north.
The Nigeria government under Yakubu Gowon, a retired general, thereafter, declared war on the new republic, which fell in January 1970 when Biafran forces surrendered.