Woman accused of kidnapping newborn and raising her as her own daughter enters not guilty plea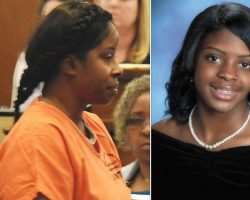 Gloria Williams , the woman accused of kidnapping a newborn baby from a Florida hospital in 1998 and raising the girl as her own, has pleaded not guilty, PEOPLE confirms.
On Thursday, Williams entered her plea in the abduction of Kamiyah Mobley , a Florida state attorney official tells PEOPLE.
Mobley was just eight hours old when Williams allegedly posed as a nurse and stole her from a hospital in Jacksonville, Florida, in July 1998. Following her kidnapping, she was apparently raised as Williams' daughter under a false identity, authorities say.
Williams has been charged with first-degree kidnapping and third-degree custodial interference. She is scheduled to appear again in court in April. Her attorney could not be reached for comment.
Mobley was discovered alive and well in Walterboro, South Carolina, in January. Investigators confirmed her identity via DNA, after they were led to her by tips through the National Center for Missing & Exploited Children.
Williams was arrested soon after and extradited to Florida to face charges.
While she remains behind bars, Mobley — who goes by Alexis Manigo — has openly defended the woman she believed to be her mother. She told  ABC News , " loved me for 18 years. She raised me for 18 years … I will always love her."
"From that one mistake, I was given the best life. I was. I had everything I ever needed, wanted. I had love especially," Mobley said. "I understand what she did was wrong, but just don't lock her up and throw away the key like everything she did was just awful."
The day after Williams was arrested, Mobley reunited with her biological parents — father Craig Aiken and mother Shanara Mobley — for the first time in South Carolina,  WCSC  reported.
"I feel like I do owe them that, to give them a chance, you know? Get to know them," Mobley told ABC News. "I'm not saying they weren't going to be good parents. I'm not saying that at all. But it would have been a different life."
She added: "When you find out you've got another family out there, it's just more love."