NJC extends Onnoghen's acting tenure, writes Osibanjo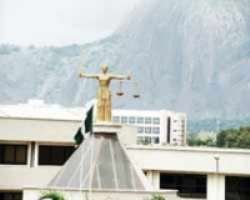 The National Judicial Council, NJC, at the end of an emergency meeting it held in Abuja on Wednesday, re-nominated Justice Walter Onnoghen for appointment as the Chief Justice of Nigeria, CJN.
NJC forwarded its resolution at the meeting to the Acting President, Prof. Yemi Osibanjo, SAN, barely 24 hours after Onnoghen's name was reportedly transmitted to the Senate for confirmation by the Presidency.
The Council took the action in view of the fact that it may be impossible for the Senate which is currently on recess, to reconvene and screen Onnoghen before Friday when his constitutional three months tenure as Acting CJN would expire.
Consequently, in line with section 231(5) of the 1999 constitution, as amended, NJC, urged the Acting President to extend Onnoghen's acting tenure for another three months.
Though Onnoghen is statutorily the Chairman of the NJC, a source at the meeting which was held in camera, told Vanguard that the extension letter sent to the Presidency was signed by Justice Ibrahim Tanko Muhammad.
Justice Muhammad is the second highest ranking jurist at the Supreme Court.
Insinuations were rife that he was President Muhammadu Buhari's first choice for the CJN position.
However, the source who pleaded anonymity because he was not permitted to speak on behalf of the NJC, said Justice Muhammadu was favourably disposed to Onnoghen who is currently the most senior Justice of the apex court, clinching the judiciary top-job.
'All the NJC members that attended the meeting were unanimous in the decision to re-nominate Justice Onnoghen. We have already forwarded the letter to the Presidency', the source added.
According to section 231(5) of the 1999 constitution, as amended, 'Except on the recommendation of the NJC', Onnoghen's appointment by President Buhari 'shall cease to have effect after the expiration of three months from the date of such appointment, and the President shall not re-appoint a person whose appointment has elapsed'.
Onnoghen who is from Cross River State is the first Southern jurist to qualify for the CJN position in about 30 years.
President Buhari had on November 10, 2016, okayed him to head the judiciary in acting capacity.
The appointment which was based on recommendation letter from the NJC, followed retirement of former CJN, Justice Mahmud Mohammed, who bowed out upon clocking the 70 years mandatory retirement age.
Onnoghen will clock 70 on December 20, 2020. He was elevated into the apex court bench in 2005.
Delay by President Buhari to forward Onnoghen's name to the Senate till few days to expiration of his three months acting ‎tenure had fuelled insinuations that he could be sidelined from emerging as the substantive CJN.
Justice Ayo Gabriel Irikefe who held sway as the CJN in 1985, was the last Southerner that headed the apex court.