Buhari Wanted A Vice President Who Can Hold Nigeria Together If He Dies – Bakare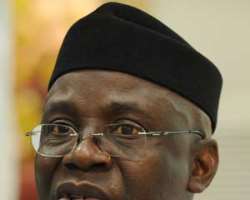 BEVERLY HILLS, February 08, (THEWILL) – The Serving Overseer of the Latter Rain Assembly, Pastor Tunde Bakare, has revealed that Muhammadu Buhari, while persuading him to be his presidential running mate in 2011, said he wanted a vice president who can hold the country together in case he dies while in power.
It would be recalled that both men ran for the 2011 election under the platform of the now-rested Congress for Progressive Change, CPC, but lost to Peoples Democratic Party, PDP's Goodluck Jonathan.
Addressing his congregation in Ogba, Lagos last month, Bakare said all what transpired during that period had been documented in his book: 'Strategic Intervention in Governance'.
According to him, "After I was called and I went to Abuja, and I sat with Mr President or General Buhari then, I said why me? 'I'm not a politician', 'I do not belong to any political party', 'I am not carrying card of any party, why me'?
"He gave me all the reasons, they are written in the book; Strategic Intervention in Governance. He gave three reasons, but the one that made everyone around me that day to dove their hats was when he said: I am not as young as you think, and even Yar'Adua that is younger is dead.
"In case I die, I know you can hold the nation together. That was when Jim (he didn't give his surname) removed his cap and said egbon, you must agree."
Bakare disclosed that Buhari rejected former President Olusegun Obasanjo's choice of former Finance minister, Ngozi Okonjo-Iweala, to be his running-mate, stating that Obasanjo said he would only accord his support to Buhari's aspiration if he settles for Okonjo-Iweala.
In the words of the pastor, "The day I signed that paper was the last day of submission. I carried the candidacy paper with me, but I didn't fill. The final day, Nasir el-Rufai (current governor of Kaduna) came to my room, and said Chief Obasanjo summoned him, that if he could appoint Okonjo-Iweala and drop Bakare, he (Obasanjo) will support Buhari.
"I was so glad, I was totally relieved, I took the nomination paper and I said 'let us go to General Buhari's room'. He took us to his bedroom, only three of us there.
"I said Nasir el-Rufai has just come to tell me good news, President Obasanjo has spoken to IBB, has also spoken to Dangote, they will now support you if you can only substitute Ngozi Iweala and let me go.
"I said, sir, there are five reasons why you must yield to this, and he kept on looking at me… Look, many of you don't know this man… For the ability to keep calm in the midst of storm and not say anything… to hold your peace, I need some Fulani blood.
"I said five reasons why you must embrace this: '1. Ngozi Iweala is Delta Igbo; you have solved the problem of south-south and south-east. 2. She's a Christian, faith balance. 3. She is a woman, gender balance. 4. She is a former minister of finance and external affairs, it is called experience, and currently, her position in the World Bank gives her global exposure, any of this five, I don't have'.
"He looked at me, and said did Obasanjo meet with you or Nasir? I said honourable minister (el-Rufai), you speak, and he repeated all the things I've said. And he (Buhari) asked him, what do you think he (Obasanjo) is up to? He said 'you know our boss, there is something up his sleeve'.
"Then he turned to me, and said Pastor Bakare I told you I have prayed my own prayer the way I know how to, and I chose you, if you don't want, give me the form, I would look for somebody else.
"It was then Nasir said, egbon, sign it. In that room, I signed it, and Nasir seconded it. I left the place and it was as if a burden lifted."