Delta State: PDP Lay Sledge Hammer On Deputy Speaker, 3 Others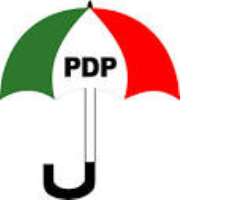 The Peoples Democratic Party (PDP) in Delta State had laid its sledge hammer on the Deputy Speaker of the Delta State House of Assembly (DTHA), Rt. Hon. Friday Osanebi for indulging in anti-party activities.
Three other members of the party believed to be loyal to Senator Ahmed Makarfi's faction were also suspended.
Their suspension is said to be indefinite over what the party described as "an illegal meeting", of some disgruntled leaders at a private home in Ushie town on January 29, last month, to disparage the party.
They were also accused of personalizing the constitution of the patty and goofed in their bid to explain with impunity and disregard some laid down principal guidelines for the conduct of congresses.
At an enlarged meeting of the party at Ibredeni, Ward 8, in Ndokwa East Local Government Area, where party executives were sworn in, the party chairman, Chief Kris Oputah, said the suspended stalwarts have plotted to run the party aground in their constituency.
The chairman in a signed statement, dated February 1, 2017, who said their suspension had been communicated to the national chairman of the party, Chief Ali-Modu Sheriff, lamented that the affected persons single-handedly declared fractionalisation that never existed in the party.
"It is disheartening that those who wish to be taken seriously as wanting to lead the people of Ndosimili could descend so low to personalizing a constitutional matter of the magnitude of party congress.
"We have been patient all these while, now is the time to halt their arrogance and perpetual falsehood. They cannot continue to paint lurid picture of Ndosimili people as uneducated, uninformed and lacking in true leaders. The party in Ndokwa East hereby suspends them with effect from February 1, 2017, indefinitely", the statement read.
While the statement added that they abused "the genial disposition of Ndosimili people by trivializing the injuries they have inflicted on the people by their mediocre leadership", it frown at their "flagrant abuse of the privileges conferred on them by the mandate of Ndosimili people and their conniving cohorts."
Also suspended was the 2007 governorship aspirant of the party, Chief Godwill Obielum, Mr. Ugo Asibelua and Chief Emmanuel Onyeukwu.