Banks risks 8-week suspension for foreign exchange infractions: CBN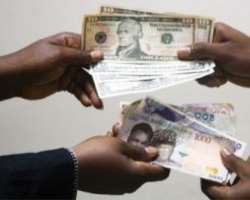 The Central Bank of Nigeria  has taken measures to plug loopholes in the foreign exchange market to forestall abuses especially by banks.
In this light, the regulator has tightened its operational guidelines on foreign exchange (forex) trading among banks and other authorised dealers.
In the latest rules released by the bank on Wednesday, defaulting banks risk eight weeks suspension.
The new rules which go into effect immediately is meant to stabilise the naira exchange rate and close the huge gap between the CBN rates and those at the parallel markets, which is often as massive as 250 to the dollar.
According to the rules released  by the Financial Market Department of the apex bank via a  circular titled: "Amendment of S4 Business Rules and Guidelines", lenders which violate forex quote rules risks an eight-week suspension.
It states that with reference to section 10.1 of the S4 Business Rules and Guidelines, any auction or two-way transaction quote with the CBN must be settled.
"If the transaction is on queue, it shall be given highest priority and when it fails to settle, the system shall generate an automatic Intra-day Liquidity Facility (ILF) backed by collateral to settle the transaction," the circular said.
The circular said where there are no securities, the allotment shall be cancelled and the defaulter suspended from all auctions for eight weeks effective from the date of default.
The circular said ILF shall be bought back or converted to Standing Lending Facility (SLF) by the participant by the close of business day, failing which it shall be automatically be converted to SLF at the prevailing SLF rate plus 500 basis points.
The SLF is an overnight CBN credit available on banking days between 2 pm and 3.30 pm, with settlement done on same day value. Funds are sourced mainly from time, savings and foreign currency deposits, as well as accretion to unclassified assets. The funds are used, largely, to extend credit to the private sector and payment of claims on demand deposit.
It added that if any SLF is not purchased by the participant by the next business day, such participant shall not be eligible to access the CBN discount window until such outstanding obligation is settled in accordance with Section 27 of the Guidelines for the Conduct of Repurchase Transactions under the CBN Standing Facilities.
It added that all Standing Lending Facilities (SLF) must be bought back latest by 10 am on the maturity date, failing which encumbered securities would be automatically rediscounted.
The CBN last week queried five banks for manipulating forex rates, which the regulator detected during the mandatory rendition of forex returns by the lenders. Some of the banks attributed the rate breach to "formatting errors".