WHAT IF PRESIDENT BUHARI IS DEAD?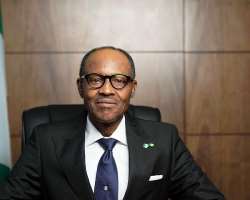 For over a week now, there's been this disturbing rumour which speculates that the President of Nigeria – Mr.Muhammadu Buhari is dead. And it's been one of the leading topics now in the country.
So last weekend,I went to a hangout in my city to relax, and I met some folks discussing about the trending rumour about our President, Then one person asked,what if President Buhari is dead,what will happen, what will it change?
The other dudes were quiet in few seconds and then, the answers that came through were rib cracking, one of the dudes said, Churches and maybe some Mosques would organize thanksgiving services, in his word, "We will see things like THANKSGIVING IN HONOUR OF A HERO – PRESIDENT BUHARI but we all know it'd be about thanksgiving to God for taking him home, the funniest part would be when the event will turn to a feast, with lots of drinks and food". Anotherdude added that there would also be lots of celebrations on the streets in different cities in the country. SMH.
Sitting right here, I can imagine different people take turns for "testify" the fall of their problem or that of the country? Ok, forgive my imaginations.
From that conversation, and a lotof others going on, on the social media, I noticed that so many people would be very happy if its truth our President, Mr. Buhari is dead… this is sad!
So I asked, what will change if the President is dead? Will our economy bounce back immediately? Will it reduce violence and killings and bombings? Will it reduce corruption in Nigeria? Will it fix our roads and electricity? Will it end poverty and unemployed? Will it fix the education sector? I guess you have answers for this, well, when I asked these questions the friendly folks I was talking with went below vibration as if they were smart phones.
Here is my opinion. The problem of Nigeria is not largely the leadership, but followership. This is why, every leader we have in positions of authority in this country did not drop from the sky, we know their siblings, villages, streets, wives, children, even parents, they were once our class mates (some are still), we know their denominations and we voted for them when they were still followers before they won and became leaders in different positions In this country. They were part of us; they are greatly like the rest of us. Infact the leadership of this country is a reflection of how some of us are. Sad Truth!
The Truth is, if the king in the lion's kingdom dies, the next king will not be an elephant or a tiger, the next King will always be a lion, with sometimes almost the same nature/character.
I know someone is asking, what is he driving at (well, by the way, I'm not driving and writing…lol).
It's simple, the problem of this country is not caused by one of us, and its solution is not in the hands of one of us. We are the cause of our problems and we have the solution of this country.So we should stop the blame game, andtake responsibility of what happens to and in this country. Afterall we are NIGERIA, whatever happens in this country affects all of us, positively and negatively.
My friend made a striking statement I can't forget in a hurry, he said to me,MARVEL, DON'T FIX THE BLAME, FIX THE PROBLEM.
Before you start shouting on the Government at any level, for the wrong they are doing,what are you doing in your little corner to contribute to the growth of this nation? You whoare shouting about how corrupt the Government is, how well are you consciously reducing it in your corner?
Nigeria is ours, not the President's alone. Until we start taking responsibilities for the things going wrong in our country, we will still be far from realizing the solutions to the problems of this country.
Today, I want every Nigerian to know that, Nigeria will become the most desirable country around the world if all of us will determine to do the right thingin whatever field we are in. Also,if we will follow the right process while trying to get things done rather than cutting corners.
Nigeria will be the nation of our dream if we will insist on giving the right people a chance to captain different positions of government rather than play 'politics' with governance.
We will rise above violence if we will see our country men as our siblings and not as farm or house pest.
And finally we will be a great Country if we will make Love (God) our motivation.
We can only win together.
Marvel Umoh is a Radio Personality, Thought Leader and A Public Relations Strategist.
He is passionate about dishing out the right knowledge which will help you live out your purpose.
[email protected] | @marvelumoh |+234-708-409-9965