How Atiku, Daura, others hastened my exit from Police: Oba Akiolu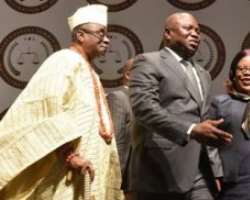 The Oba of Lagos, Oba Riliwanu Akiolu, yesterday alleged that former Vice President, Atiku Abubakar, one unspecified Daura and others, hastened his exit from the Nigerian Police in 2002. He left the force as an Assistant Inspector General, AIG. Akiolu, who made the allegation at a stakeholder meeting in Lagos, also blamed past military governments for current police ineffectiveness, saying the military killed the efficiency and good performance of police.
Though the monarch did not say which of the Daura's he was referring to, but sources said Akiolu was referring to the acting Director General of the Department of State Services. Speaking on the decision of some police officers to sue the Federal Government, Akiolu disclosed that he advised the aggrieved officers to withdraw the case since he was also a victim of such a similar circumstance.
Narrating how he was also affected by the action of the Police Service Commission, PSC, the monarch said "I remember that I was a victim of that circumstance; then Abubakar Atiku, Daura (didn't state first name) and others advised ex-President, Olusegun Obasanjo that if he wants to win Lagos in 2003 presidential election, I must be removed. It was written on paper.
"And in fairness to Obasanjo, he argued that he knew nothing about it. And he had to send for the Inspector General because the then Chief of Staff challenged the plan to retire me. "So for someone to sit at the Police Service Commission and determine who retires from the police is unfair. This is not how to run a very efficient police force," he said.
He lamented that military administrations rather than boost the efficiency of the police, demoralised them, noting that he was privy to the information as the head of the police strike force for many years. Akiolu argued that the under-funding of the police should be blamed for the persistent collapse of buildings in police barracks across the country.
Lagos State Governor, Mr. Akinwunmi Ambode (middle); Chief Judge of Lagos State, Justice Olufunmilayo Atilade (left) and Oba of Lagos, Oba Rilwan Akiolu I during the Administration of Justice Summit organised by the Lagos State Ministry of Justice at the Eko Hotels & Suites, Victoria Island, Lagos, on Monday, January 30, 2017.