Minister Orders Demolition Of All Illegal Structures In Abuja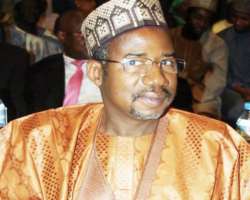 PHOTO: FCT MINISTER, SENATOR BALA MOHAMMED.
ABUJA, May 18, (THEWILL) - The FCT Minister, Senator Bala Mohammed has ordered the demolition of all illegal structures in the Federal Capital City, Abuja.

The Minister gave this order while flagging-off the activities of the reconstituted Ministerial Task Force to clean the Federal Capital City environment on Tuesday at the Area 10, Old Parade Ground, Garki I District, Abuja.

Senator Mohammed revealed that the Task Force was reconstituted to improve environmental conditions in the City.

The Minister directed that the Task Force work round the clock to ensure that the entire Abuja metropolis is rid of garbage, beggars, abandoned/rickety vehicles as well as commercial motorcycles from the city centre which he noted is gradually resurfacing.

He urged the Task Force to intensify effort to ensure that Abuja becomes a crime-free city; lamenting that pockets of criminal activities are being perpetuated in some dark areas.

According to him, this is in fulfillment of his pledge to Nigerians when he took over the mantle of leadership of the FCT, to drastically change the face of Abuja environment.

The Minister said the initiation is meant to radically reclaim Abuja environment with all its aesthetic beauty; insisting that no stone will be left unturned in driving this operation to its logical conclusion.

Senator Mohammed reiterated that he decided to personally flag-off the exercise because of the importance his administration attaches to a good and serene environment because cleanliness they say is next to Godliness.

His words: "The FCT Administration under my leadership will not tolerate any type of illegal structure, commercial motorcycle, waste left unattended to, be it construction, human, vegetation or liquid waste in the Abuja metropolis".

The Minister remarked that the operation would take care of removing all illegal structures since the exercise is planned to be total restoration of the Abuja Master Plan.

Senator Mohammed, who reiterated that the exercise would be permanently entrenched, stressed that in the process beggars would also be evacuated to their various states of origin.

The Minister further directed that the Task Force be sub-divided into groups for effective monitoring of the whole Federal Capital City to ensure that concrete results are achieved within the shortest possible time.

Senator Mohammed assured that he would give the needed political will and the necessary support to achieve the new vision and the road map of FCT as it affects the environment.

He solicited for the understanding and cooperation of the entire residents of the Federal Capital Territory by cleaning their immediate environment for the benefit of all.