Establisment of Polytechnics Not Politically Motivated, Uduaghan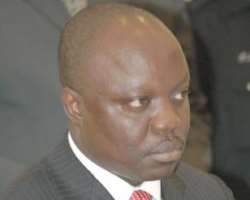 Emmanuel Uduaghan
"The recent establishment of four new Polytechnics in Delta State was not politically motivated" , says the State Governor, Dr. Emmanuel Uduaghan.
    Dr. Uduaghan who stated this while inaugurating a six-man planning Committee to work out modalities on the take off of the Institutions, explained that his administration was committed   to  meeting the educational needs of the riverine and remote areas of the state.
 He noted that the people in those areas have been deprived of Higher Education  for a long time adding that his administration was committee to building human capital to meet the challenges of growth and development of the state.
 "I have no fear at all about the funding of these institutions. We have been talking about industrializing the state, we have to prepare our youths to work in these industries. There is no political interest in establishing and locating these institutions in specified areas, it is to give equal opportunity to the youths in the state".
 The governor, called on stakeholders to cooperate with the committee in order to achieve the target as the task given them was for the development of the state saying "these schools are sited in remote and riverine areas to bring development to the area and improve their standard of living. I appeal to stakeholders to cooperate with the planning committee. I want to assure Deltans that there is no cause to worry, with God on our side we will succeed".
 Speaking further, he said the institutions were established for the self development of the youths as his administration was committed to the building of human capital which was basic for building a solid future for the youths.''
 He expressed satisfaction on the host communities' readiness to ensure the smooth take-off of the institutions as temporary structures have been put in place and are prepared to ensure  the success of the planning committee.
 In a brief response, Chairman of the committee and Hon. Commissioner for Higher Education Dr. Hope Eghagha pledged their loyalty to the Governor and promised on behalf of his colleagues to do their best in performing the task assigned them.
 He noted that the institutions were established to also meet the growing admission problems in the state stressing that about 27,000 students apply for Polytechnic admission annually with only 4,000 youths being admitted. "We believe that these four institutions will drive development in these areas. It will have a multiplier effect on the state".
 The four Polytechnics are located at Aboh, Abigborodo, Bomadi and Sapele.