BUCHI EMECHETA DEAD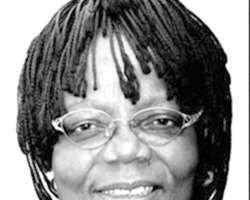 Buchi Emecheta, one of Africa's most celebrated literary icons and author of the popular novel, The Joys of Motherhood, is dead. She died on Wednesday in her sleep at the age of 72 while in London.
Emecheta has been based in Britain since 1960. She is popular with her writings of over 20 books which include plays and an autobiography about African women's experiences in Africa and in Great Britain.
The author of Second-Class Citizen (1974), The Bride Price (1976) and The Slave Girl (1977) among others was born on 21 July 1944, in Lagos, Nigeria, to Igbo parents, Alice (Okwuekwuhe) Emecheta and Jeremy Nwabudinke, both parents from Ibusa, Delta State, Nigeria.
Her father was a railway worker in the 1940s. Due to the gender bias of the time, the young Buchi Emecheta was initially kept at home while her younger brother was sent to school; but after persuading her parents to consider the benefits of her education, she spent her early childhood at an all-girl's missionary school. Her father died when she was nine years old.
Buchi Emecheta, author of The Joys of Motherhood is dead
A year later, Emecheta received a full scholarship to the Methodist Girls School, where she remained until the age of 16 when, in 1960, she married Sylvester Onwordi, a student to whom she had been engaged since she was 11 years old.
Her themes of child slavery, motherhood, female independence and freedom through education won her considerable critical acclaim and honours, including an Order of the British Empire in 2005.
Emecheta once described her stories as "stories of the world…[where]… women face the universal problems of poverty and oppression, and the longer they stay, no matter where they have come from originally, the more the problems become identical."
She has been characterised as "the first successful black woman novelist living in Britain after 1948"
Following her success as an author, Buchi travelled widely as a visiting professor and lecturer. From 1972 to 1979 she visited several American universities, including Pennsylvania State University, Rutgers University, the University of California, Los Angeles, and the University of Illinois at Urbana-Champaign.
Shortly thereafter, she and her journalist son founded a publishing company in London and Nigeria, named Ogwugwu Afor. Since 1979 Emecheta has also served on numerous British committees as a respected voice for arts, integrationist, and women's issues, although she rejects the feminist label. She achieved a PhD in social education in 1991.
From 1980 to 1981, she was a senior resident fellow and visiting professor of English, University of Calabar, Nigeria. In 1982 she lectured at Yale University, and the University of London, as well as holding a fellowship at the University of London in 1986.
She earned a BSc degree in Sociology at the University of London.
Some of the honours she received during her literary career, include the Jock Campbell Award from the New Statesman in 1979, and being listed on Granta magazine's 1983 list of "Best of the Young British Novelists".
In September 2004, she appeared in the historic "A Great Day in London" photograph taken at the British Library, featuring 50 Black and Asian writers who have made major contributions to contemporary British literature. In 2005, she was made an OBE.