It's time for South-East to produce a Nigerian President, says Obasanjo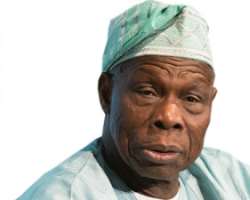 Former President Olusegun Obasanjo on Tuesday gave a tacit nod for the South-East geopolitical zone to produce the nation's President.
He, however, described this position as purely his personal view.
In the same vein, he noted that in the interest of justice and fairness, the Ogun West Senatorial District in Ogun State should be given the chance to produce the next governor of the state.
The district is the only one that has yet to produce a governor since the creation of the state in 1976.
The former President said this when the leadership of the Christian Association of Nigeria, Ogun State chapter, visited him at his Presidential Hilltop residence in Abeokuta for a special New Year service in his honour.
While declaring that his submissions were his personal view, he pointed out that the problem of justice and marginalisation had been a major source of conflicts between ethnic and regional divisions in the country.
He said it was part of his resolve for a just and fair country that made him to work for the emergence of a South-South President in 2009.
He said, 'But, irrespective of the thinking of the people ahead of the 2019 (elections), I personally think that the South-East should have a go at the Presidency too.
'The same is happening here. If Ijebu and Egba have produced the governor, it is only fair and just to allow the Yewa or Ogun West to also produce governor. Or else, one day, they will also stand up and take up arms against this injustice against them. That is my personal position on this.'
On the Southern Kaduna crisis, Obasanjo cautioned Nigerians against commenting on what they do not really have detail reports of, saying this was largely responsible for the escalation of the situation.
He said, 'My findings so far show that everyone is talking from the position of strength. People are not talking from knowledge of what they know and this is not helping. We must be able to dump all our sentiments to overcome the challenges.
'Just like other cases of injustice around us, we need peace; it is only peace with justice that can solve all these crises. Genuine peace is what everyone is craving for and this can only come when there is justice.' - Punch.