President Buhari and The Emissaries of Death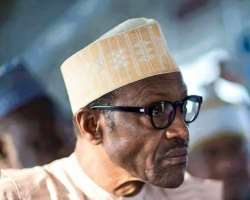 The indulgence of Nigerians in contesting everything under the sun is inexplicable. No responsible adult, Christian or Muslim or even atheists alike who do not know that the power of life and death is strictly God's exclusive field. But since Nigerians are in love with speculations, they go to extremes in even predicting deaths.
President Muhammedu Buhari (PMB) was slammed with a dose of Nigerians special ingenuity, when they declared and celebrated him dead in the United Kingdom (UK).
Last Thursday, President Buhari junketed to London, after transmitting to the National Assembly (NASS) his intention to proceed on a short vacation. The Correspondence to NASS mandated his Vice-President Yemi Osinbajo to act at his behest as President of Nigeria for the 10-working days' vacation. But shortly after he left the shores of Nigeria, landed in London to a UK hospital for routine medical check-up, an online medium, Metro UK claimed the 74-year old Nigeria's President had died on hospital bed.
Such devilish social media hype also went buzzy in 2016, when Buhari jetted abroad for the treatment of a minor hearing infraction. But some Nigerians publicized the severity of the problem to the level of imputing audio impairment to the extent his personal doctors wondered whether it was the same patient and President Buhari under their care, who was in a condition nowhere near the speculations.
But the rumour of Buhari's death a few days ago constituted enough substance for some social media mongers to go berserk, spreading the bad speculations about his death. And despite denials by the Presidency, family members and close associates, it never appealed to these few advocates or harbingers of death.
At a point, they had desperately wished that some authentic sources would have even faked confirmation of the news as true. What they postured to gain from Buhari's death is indiscernible. But those who anchored the campaigns about his death more pervasively and pungently were the handful, thoroughly confused opposition members in the country.
President Buhari, alive, hale and hearty, read commentaries from his country men and women. Ironically, they did not only forecast his death, but discussed it in glowing terms, as if his death would mean a panacea to Nigeria's multifaceted problems.
Pushed thus far, Buhari had to confirm his aliveness in UK with a short, very brief remarks and photographic images of himself, relaxed in his UK apartment to pin down doubting Thomases. But surprisingly, some Nigerians never believed it, preferring instead, to hear news of the confirmation of the death of their President than the "unpleasant" news that he is hale and hearty.
Remember the unspeakable in the peak of the 2015 presidential campaigns! Ekiti state Governor Ayo Fayose, bought generous spaces on the front pages (cover pages) of most national media in Nigeria, imploring Nigerians not to waste their votes on Buhari, who is too aged and comes from the Northwest geo-political zone, a lineage with the history of serving Nigerian leaders who have died on the throne.
He psyched Nigerians to ignore the then candidate Muhammedu Buhari's presidential ambition in the 2015 general elections. But since God does not pander to the wishes of demons incarnates in human flesh, Nigerians ignored Fayose's pleas and massively voted for Buhari against the governor's preferred candidate, former President Goodluck Jonathan.
But opposition desperadoes and folks have picked the battle from this angle. The allies who wanted the empty predictions of Fayose to receive applause, felt more comfortable to hear the confirmation of President Buhari's death. But since they are not Almighty God; since they cannot procreate or destroy life and having conferred the title of nuisance on themselves, the "bad and the ugly" never happened to gladden their souls. But progressive Nigerians are happier that Fayose and his ilk of bad bedfellows have continued to excite themselves with the prediction of death on President Buhari.
Africans know that when opponents maliciously predict the death of others, particularly leaders, such anointed kings live longer and even attend the funerals of the predictors.
In the first place, Buhari was not under any threatening health condition when he left Nigeria. He is a mortal, who breaths life and also prone to illness like any other Nigerian or leader on the face of the earth. To Buhari as a person, the few harbingers and errand boys of death predictions on him have not surpassed the millions of prayers from the masses of Nigeria, daily and minutely beseeching Almighty God for his good health and longer life.
But as a leader of his people who have entrusted him with a mandate and reposed confidence in him, President Buhari needed to assure the people of Nigeria by personally communicating from his London abode. He posted on his facebook page these comments;
"Wherever I am, I keep up with news from home. Channels TV is one of my favorites. I am proud of what Nigerian media are achieving."
But after the hullabaloo and hallucinations about President Buhari's death, the natural question is, what do the propagandists intend to achieve? No one with any leadership inclination or foresight would see the demise of President Buhari as solution to Nigeria's mirage of problems.
Quite obviously, those wishing him dead are the enemies of Nigeria and the unscrupulous elements who have for years sapped this country dry. They are unhappy with Buhari because the profligacy which previously defined the hallmark of governance in the country has eased out for sanity, probity and accountability.
Most of them are facing various charges of corruption in courts and feel the demise of President Buhari would loosen the hangman's noose on their necks. They are those who delight in the perpetual enslavement of the masses, by doling out occasional handouts from stolen wealth, while the poor and suffering masses of Nigeria continue to gloomily sulk in hardships.
But while the few devout fruitless time for prayers wishing President Buhari dead; the majority and millions of Nigerians are countering their negative prayers in churches and mosques. They are approaching God Almighty with more sophistry in supplication, to bless and allow His own anointed leader to Nigeria to complete his constitutionally permissible eight years in Aso Villa to tidy up his reformations, cleanse the land and deliver to Nigerians a country of progress and prosperity.
Odoma is the President, Africa Arise for Change Network and contributed this article from Chicago.
Disclaimer:

"The views/contents expressed in this article are the sole responsibility of the author(s) and do not necessarily reflect those of The Nigerian Voice. The Nigerian Voice will not be responsible or liable for any inaccurate or incorrect statements contained in this article."