$11m missing from The Gambia treasury as Jammeh goes into forced exile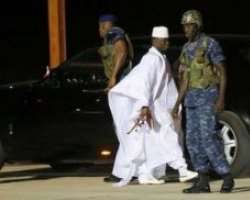 More than $11m (£8.8m) has been reported  missing from The Gambia's state coffers following the departure of long-time leader Yahya Jammeh, an adviser to President Adama Barrow has said.
According to the BBC, an adviser of new President, Adama Barrow, Ahmad Fatty said the financial experts are still trying to evaluate the exact loss incurred by the tiny West African country but it is known that Mr Jammeh had loaded luxury cars and other items into a Chadian cargo plane on the night he left the country.
"The coffers are virtually empty," he said. "It has been confirmed by technicians in the ministry of finance and the Central Bank of the Gambia."
He said Mr Jammeh had made off with more than $11m in the past two weeks alone. The BBC is unable to independently verify the claims.
Mr Fatty said officials at The Gambia's main airport had been told not to let any of Mr Jammeh's belongings leave the country.
Reports said some of the former leader's goods were in Guinea, where Mr Jammeh had stopped on his journey into exile.
Mr Jammeh is reported to now be in Equatorial Guinea, although authorities there have not confirmed it.