PMB Dead or Alive: Who Speaks for the Presidency?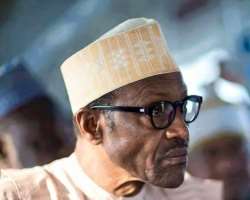 The confusing statements issuing out of the Presidency since late last night when some sections of the media (both social and traditional) began to speculate about the state of the health of President Muhammadu Buhari did not show coordination on the part of those who speak for PMB or manage the perceived crisis. It just looks like there is some in fighting or struggle as to who could better address the very sensitive matter. In deed some Nigerians feel the rivalry is unhealthy at this material time.
For veteran journalist and columnist, Venerable Okey Ifionu, the discordant view confuses and obfuscates matters. While commending Mr. Femi Adeshina for handling the matter "pathetically and very professionally" Ifionu condemned Mallam Garba Shehu for being unnecessarily combative the way he handled the same matter.
According to Ifionu, while Adesina's statement was "professionally couched, Garba's was simply idiotic as it made a needless reference to a so-called ex-leader", adding "How low and unintelligent can a denial get?"
Ifionu's reference was to a portion of Garba's statement where he said: "He (Buhari) is alive and well! President Buhari is not magical. He cannot be holidaying in the UK and be in Germany, dead or alive at the same time. He is unlike a past President who was at Ota, with Chief Obasanjo and attending the Trump inauguration in D.C, being in two places at the same time!''
Garba was referencing to former President Goodluck Ebele Jonathan who was reportedly invited for President Donald Trump's Inauguration in Washington, but somehow was seen at ex-President Olusegun Obasanjo's country home in Ogun State on a private visit.
For this reckless statement, Ifionu advised Shehu Garba to realise that "his brief as special assistant to PMB does not include making unnecessary enemies for his principal."
Continuing, Venerable Ifionu declared: "The President truly needs to overhaul his cabinet and personal staff. Quite a number of those there know little or nothing about public service. Any wonder, the country has never been so gloomy."
Adding his voice to the conversation, a practising journalist Stanley Nkwazema said there was absolutely no reason for Shehu to drag President Jonathan into the matter because "it had nothing to do with GEJ".
Meanwhile, in between Femi Adesina's "professionalism" and Shehu Garba's "attack dog" approach Nigerians are yet to know the true state of their President's health. Yet they have the right to know.
Everyone's expectation is that there will not be a replay of the late President Shehu Musa Yar'Adua's "dead and alive" scenario which dragged on for months and the nation was kept in total darkness as to the true position regarding the President's condition. Thus when the inevitable truth was revealed it was merely anti-climatic as a benumbed nation had already developed a shock-absorber that was devoid of any feeling of sympathy
Disclaimer:

"The views expressed on this site are those of the contributors or columnists, and do not necessarily reflect TheNigerianVoice's position. TheNigerianVoice will not be responsible or liable for any inaccurate or incorrect statements in the contributions or columns here."