Lagos to construct 181 roads before June – Gov. Ambode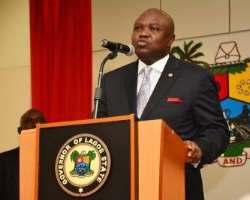 Gov. Akinwunmi Ambode of Lagos State on Thursday said that 181 roads would be constructed across the state before the second quarter of the year.
Ambode spoke at the state's quarterly Town Hall Meeting with residents of Lagos-East Senatorial District held at the Ajelogo Housing Scheme, Mile 12, in Ketu area of the state.
He said the construction would be visible in all the 20 Local Government Areas and 37 Local Council Development Areas of the state.
According to him, a minimum of three roads will be constructed in each council area.
The governor said that the state government would advertise bids for the construction of the roads next week to complement the 114 roads constructed in 2016.
'Majority of the questions asked are on roads because of the success recorded with the 114 roads last year, when we did two roads per local government.
'I want to pronounce here that you should watch out next week in the newspapers; we are advertising 181 roads which will be done in all our local governments.
'What we have found out is that if we decide to continue with two, some of those roads are not linking each other to the main road.
' Most likely you will see that if we are supposed to do some roads in some local governments, it will only make economic sense if there is a linkage.
'The choice has been made by the local governments in conjunction with the engineers so that we can make economic sense of the road and we think we will continue in that pace,' Ambode said.
The governor also said that 5,700 Neighbourhood Safety Corps would be recruited in the next three weeks.
He said that this was part of continued efforts to ensure good governance and safety of Lagos residents.
Ambode highlighted other various activities and projects for the year which include road rehabilitation and construction.
He said others include establishment of bus terminals and depots, as well as creation of jobs for micro, small and medium enterprises, among others.
The governor said that bus terminals would be established at Yaba, Ikeja, Oyingbo, Anthony, extending to Abule Egba, while those under the bridges and illegal car parks would be eradicated.
He said the government would also intensify efforts to make artisans and youths have access to the Employment Trust Fund.
Ambode, while responding to remarks by the Oba of Lagos, Oba Rilwanu Akiolu, said that Lagos Island would get a face lift this year.
According to him, the Ebute-Ero market will get a multi-layered car park.
Ambode, while thanking residents for their support, urged them to do more by paying their taxes.
He promised government's unrelenting efforts at ensuring an all-inclusive government and delivery of more dividends of democracy.
Residents appealed to the government for the construction of more schools, health centres and roads, which the governor promised to look into.