Sports legend, Chris Enahoro, dies at 80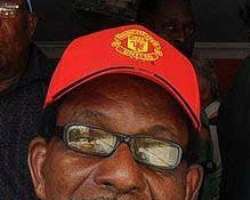 One of Nigeria's all-round sports legend, Chris Enahoro, 80 early this morning passed on, in Lagos after a brief illness.
Enahoro, a former captain of the Nigerian Cricket team and All-time school athletics record holder as well as former Chairman, Nigeria Cricket Federation (NCF), spoke with the NationSport early on Wednesday.
The late sports legend was supposed to have a meeting with NationSport on Wednesday but had to cancel the scheduled meeting following a brief illness.
According to his PA, Razak Adedigba, the deceased died  around 6:30am today (Wednesday).
'When the doctor came on Wednesday, he attended to him and told him to rest. He later woke up in the evening to have his dinner and told me he was getting better. Early today (Wednesday), he woke up at 5am to visit the toilet on his own. but he told me to lay him on the floor and I had to on the fan for him where he laid and breathed his last breath around 6:30am. It was painful for him because I have been with him for more than one decade. I was actually living with him before I got married last year but I still resumed each day to assist him. His death was painful and I noticed that he was passionate about sports,' he said.