Gov. Ugwuanyi appoints Zik's son as Special Adviser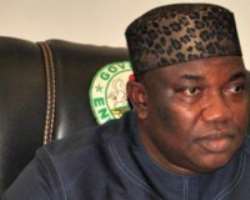 There was excitement in Enugu following the appointment of Uwakwe Ukuta Azikiwe, the son of the former Premier of the Eastern Region and Nigeria's first President, late Dr. Nnamdi Azikiwe, as Special Adviser on Special Duties by Governor Ifeanyi Ugwuanyi of Enugu State.
Gov. Ugwuanyi had during the introduction of past leaders of the Eastern Region, East Central States, old Anambra State, old Enugu State and the present Enugu State to the American Ambassador to Nigeria, American Ambassador to Nigeria, Mr. Stuart Symington, at the Government House, Enugu, disclosed that he had recently appointed Zik's son into his cabinet as a Special Adviser, in recognition of the contributions of the undisputed icon of Nigerian nationalism to the state, the Igbo nation and the country at large.
The governor also noted that the appointment of Zik's son was based on merit and the conviction that his wealth of experience and contributions would add value to the efforts of his administration to impact positively on the lives of the people of the state.
Uwakwe is an American-trained lawyer, who was called to the Nigerian Bar in 2005. He attended Lincoln University, and University of Baltimore School of Law, both in the United States of America, and until his recent appointment, was a pioneer staff of the Nigerian Electricity Regulatory Commission (NERC).
The new Adviser thanked Gov. Ugwuanyi 'for the honour and privilege to serve my state of birth' and pledged to work towards the actualization of the vision of the governor to take Enugu state to the next level.
Reacting to the development, a cross section of Enugu Residents hailed Governor Ugwuanyi for the rare gesture, which they said deserves the commendation of the public.
A resident of Ogui in Enugu, Hon. Alphonsus Ugwu noted that Ugwuanyi is the first governor from the south east geo-political zone in particular and the nation in general to appoint Zik's child into government position, describing it as a welcome development that should be emulated by other leaders.
Hon. Mike Uzoigwe disclosed that Gov. Ugwuanyi has by the recent appointment demonstrated his strong belief in merit and reward for excellence, adding that he (Ugwuanyi ) was the only governor from the south east zone since 1999 that has officially visited the Nsukka residence of late Dr. Azikiwe to identify with his family, and equally informed them of the state government's plan to rehabilitate and turn Zik's official residence in Enugu (as the Premier of the Eastern Region) into a tourist centre.
He added that Zik paid the ultimate price for the development and unity of the country, and his family deserves the recognition of our leaders.