Army frees 257 suspected Boko Haram members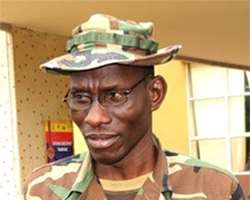 The Nigerian Army on Sunday released 257 suspected Boko Haram members to the Borno State Government.
The detainees, comprising adult males, women and children, were released to the Borno State Deputy Governor, Alhaji Usman Durkwa, at a ceremony marking the 2017 Army Remembrance Day celebration at the Ramat Square in Maiduguri.
Handing over the  detainees, the head of the military's counter-insurgency operation in the North-East (Operation Lafiya Dole), Maj. Gen. Lucky Irabor, said the 257 suspected Boko Haram detainees had been screened and found to be clean.
He said, 'After screening them, we found them clean. We will ensure that they are monitored even after the release. The Army Day celebration has afforded us the opportunity to free them to mark the occasion.'
In his keynote address read by the Deputy Governor, the state Governor, Kashim Shettima,  paid tribute to the fallen heroes, who he said, paid the ultimate price for the unity of the nation.
He called on Nigerians to pray for the troops fighting insurgency in North-East for total defeat of the remnants of the Boko Haram sect and peace and development of the country.
Shettima  assured members of the Nigerian Legion, Borno State chapter, that government would not abandon them as he made a cash donation to the legion.
A total sum of N7.2m was realised for the legion during the launch of their emblem.
Meanwhile, troops of the Nigerian Army under Operation Lafiya Dole have rescued 48 women and children who were captives of the Boko Haram sect in some villages in the Dikwa Local Government Area of Borno State.
This was just as the troops shot dead 13 of the Boko Haram terrorists, who had held the victims in their hideouts.
The women and children were rescued by the 112 Task Force Battalion, 22 Brigade, Nigerian Army in a joint operation with the civilian Joint Task Force on Saturday and Sunday.
It was learnt that the troops, in a clearance operation to Awada and Sinbaya villages, had a gun battle with the insurgents, killing eight.
Also in Anaduwa, Talwari, Agulari, Kirinari, Gubdori and Yale villages, the soldiers were said to have removed the Boko Haram terrorists' flags and recovered four vehicles and three motorcycles. They killed five more insurgents.
One of our correspondents learnt that the 48 victims comprised 35 women and 23 children.
The Director, Army Public Relations, Brig. Gen. Sani Usman, confirmed the casualties and the rescue operations.
He said, 'During the operations, the troops met a stiff resistance towards Sinbaya and neutralised eight suspected Boko Haram terrorists. They also carried out a similar clearance operation at Anaduwa village, where they removed Boko Haram terrorists' flags.'