Nigeria's Aso Rock: They Seat of Oppressive Demons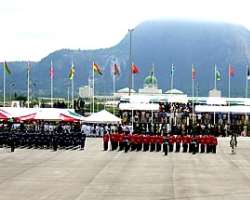 Rueben Abati, the former spokesman to the ex-president, Dr Goodluck Jonathan Ebele opined that there are demons in the Nigeria's highest political seat, Aso Rock which deal evilly with every occupant of that abode. In quick succession, FaniKayode, the former Aviation minister to ex-president Olusegun Obasanjo and popular tormentor in the flesh of the APC- led Government wrote a piece of article to uphold the view of Rueben Abati.
In contrary to these views, there are no demons anywhere near the Aso Rock, not even in the political space called Nigeria! However, there are many satanic demons in Aso Rock and even beyond as it is evident in the opulent lifestyles of our so called 'Nigerian leaders' and in the oppressive policies and laws of Government across the three tiers of Government hence, the misinterpretation by Rueben Abati and Fani Kayode as spiritual demons.
It is not very uncommon in Nigeria to see 'Nigerianleaders' using social media to announce to the over 85% poor Nigerians and the world in general how they just acquired Rolls Royce of three hundred million naira (#300, 000,000) and the over 85% poor Nigerians cannot afford three square meals. These are the demons!
Over 85% Nigerians live in deprivation, wretchedness, squalor, penury, abject poverty impoverishment, hunger, sickness and perpetual lack while our so called 'Nigerian leaders' made up of less than 5% are living in oppressive opulence, abundance, wealth with the aid of manipulative oppressive policies and laws made in their favour to continually earn bogus allowances and even life-time pension (the UK prisoner was still collecting while in prison). These are the real demons!
Over 85% Nigerians live below one dollar ($1) per day, yet the so called 'Nigerian leaders' can afford to take a flight to UK for launch and lavish million of naira on prostitutes. They can afford to stack billion of naira in foreign accounts at the expense of the poor masses and over thirty million unemployed youth who are tagged 'unemployable half-baked graduates' by our so called 'Nigerian leaders' a justification for money laundering abroad to industrialise other countries at the expense of our dear nation, Nigeria. These are the demons!
The highest stage of this demonic display by the so called 'Nigerian leaders' is the denial of fundamental right to life for the poor masses as they buy guns and other weapons for the willing poor devil incarnates to sniff life out of poor children in their innocent, harmless sleep and slit open the throat of our poor mothers who work tirelessly to feed their children all for ephemeral gains (political and economic). These are the real demons!
There are no demons anywhere near the Aso Rock or other Government houses. The demons are truly the occupants of those sacred and holy places; who did everything demonic to get there, continue everything demonic to remain there and will do everything demonic to come back there, as power to mortal beings (Nigerians in particular and Africans in general) is stronger than the strongest wine in Moscow.
Osobu Suuru Alexander
[email protected]
08033819701
Disclaimer:

"The views/contents expressed in this article are the sole responsibility of the author(s) and do not necessarily reflect those of The Nigerian Voice. The Nigerian Voice will not be responsible or liable for any inaccurate or incorrect statements contained in this article."