EBONYI 2019: A PROPHECY OF WHAT EBONYIANS WILL DO IN FACT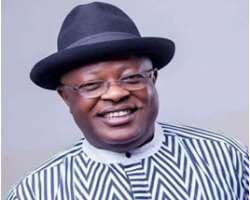 Two years to the next Ebonyi Gubernatorial Elections, Ebonyi political firmament is fully charged with political permutations and speculations. These have given rise to the mild political ripples such as alignments and realignments, political adoptions and grand-standings, lobbying, preliminary horse-tradings and role-rehearsals being witnessed in the Salt of the Nation - Ebonyi state. Given that 2019 is still close to two whole years away from now, these political activities may seem to have started quite early, but that is the peculiarity of Ebonyi state where [except for the recent efforts on Agricultural revolution] the only viable industry which serves as catalyst to every other human activity in the state is politics which is symbolized by the Government House. This explains the emotional attachments of both the patriots and the villains, students and teachers, professionals and quacks, traditional rulers and their subjects, the married and the singles, the sick and the healthy, the rich and the poor, the clergy and the laity, as well as the sane and the insane to politics in Ebonyi state.
The implication of the aforestated scenario is that the political hawks in Ebonyi state are dusting their arts in order to exploit the gullible and unwary among us. In 1897, Oliver Wendel Holmes, Jr., while addressing the intractable issue of defining law gave a distinguished audience of lawyers and judges in Boston what has become a general template for defining law. According to him, "The prophecies of what the courts will do in fact, and nothing more pretentious, are what I mean by law." I am constrained by our past political experiences and the need to correct our past mistakes, protect our collective achievements and provide a positive compass to future generations of Ebonyians to stretch Holmes' approach to law into the unfolding Ebonyi political scenario, but before I prophecy, let us travel down the memory lane: Ebonyi state was carved out from Abia and Enugu states on Tuesday, 1st October, 1996 by Gen. Sani Abacha - a hero Ebonyi people are yet to sing. Preparatory to the 1999 democratic dispensation, the state was delineated into three senatorial districts - Ebonyi North, Ebonyi Central and Ebonyi South. In an election contested by candidates from all the senatorial districts in 1999, Dr Sam Ominyi Egwu was elected the first Executive Governor of Ebonyi state. He equally beat contestants from all the districts a second time in 2003 to become the first two-time Governor of the young State. In 2007, candidates from all the districts, especially Ebonyi South, contested against Chief Martin Elechi of Ebonyi Central who eventually won as the second elected governor of Ebonyi State. Elechi's victory in the guber polls marked Ebonyi masses' rejection of Ebonyi South contestants' dichotomous argument that Ebonyi Governorship position should be rotated between "Abia and Enugu" blocks of Ebonyi state in stead of the normal practice of rotation among the three senatorial districts.
In 2011, candidates from all the senatorial districts contested with Elechi hinging their arguments on various grounds, the relevant one for this piece being that of Elechi's major opponent who was from the same district as Elechi that the people of Ebonyi Central whose turn it was to occupy "Abacha Lodge" for the second term were dissatisfied with Elechi and so wanted another son of the district to complete the remaining tenure of four years and hand power over to someone from Ebonyi South district in 2015! Again, Ebonyi masses rejected this impracticable, precarious, fallacious and ominous argument and voted for Elechi. In 2015, the elite club of Ebonyi state, in a grand conspiracy against Ebonyi State and her people, foisted an unnecessary, obfuscatory and gangrenous political controversy on Ebonyi state: that power should not shift to Ebonyi South because the southerners have criminally marginalized Abakaliki people, and once power shifts to South, the Abakaliki man will be finished; that politics was a game of numbers and since there was no written Charter of Equity by Ebonyi people, Abakaliki people should keep and rotate Ebonyi Governorship position between their two senatorial districts! Alarmed by this perilous idea, Ebonyi Equity Forum (EEF), a nongovernmental organization committed to ensuring equity and fairness for and among Ebonyi people mobilized Ebonyi masses in aggressive campaigns against that satanic idea. In one of its messages published in numerous print, audio and audio-visual media platforms, EEF argued that "it was not the intention of Ebonyi founding fathers to have a state where one section will be marginalized; and that through their voting pattern in governoship elections over the years, Ebonyi people have proved a positive disposition to an equitable power rotation arrangement or Charter of Equity which, though not written on paper, was boldly etched on their hearts and consciences, and so binding on them"! In the face of the foregoing, the elite conspirators recapitulated only to return with another strange and cataclysmic idea which created confusion and trapped some well-meaning persons in strange positions. The rest is part of our chequered history, but in the end, Ebonyi masses had their way: With the election of Chief David Umahi as the third Executive Governor of Ebonyi state, gubernatorial power shifted to Ebonyi South senatorial district thus entrenching equitable power rotation in Ebonyi state as not just a custom, but also a tradition and a binding law!
I have refreshed our memory as a people just to prove two points: Ebonyi masses have been and continued to be the conscience of Ebonyi State; it is their resilience that has bequeathed us with the pride we have as a people and truly earned us the label of "a people of honour and integrity"! This is contrary to the character of majority of our elites who have often pursued their personal interests/ambitions beyond bounds and at the expence of our common good.
At this point, let me warn people to shun the heretic act of trivializing the achievements of previous administrations in Ebonyi State. The truth is that Egwu empowered Ebonyi people to enable them drive and defend the new state before the rest of the world; Elechi laid a solid infrastructural foundation which united Ebonyi as one indivisible state; while inspite of financial and other constraints, Governor Umahi is taking Ebonyi state to greater heights on all those fronts!
My prophecy of what will happen in the 2019 Ebonyi Guber Election is that some aggrieved Ebonyi political elites will come up with two plans all intended to disrupt the peace and unity which Ebonyi people have enjoyed over time. The first is a candidate who is not from Ebonyi South, and the second one is a candidate who is from Ebonyi South other than the incumbent Governor: The truth is that none of these options are tenable, viable and feasible for the fact that each of them has the capacity to retard and stagnate Ebonyi State by destroying the basic foundations and moral ethoes upon which it rests: A candidate who is not from Ebonyi South is a catalyst for inequity as other districts have had two full and undisrupted tenures respectively; while another southern candidate on a different party ticket is good fuel for anarchy as it is subject to abuse and a sure step to the enthronement of an acrimonious Abia and Enugu dichotomy in the Salt of the Nation!
Even though the aim of this piece is to prepare fellow Ebonyians for the vagaries of some of our political elites through fair warning, and not to campaign for anybody, it suffices that for all intents and purposes, the surest and safest way forward for Ebonyi State and Ebonyi people both individually and collectively is to support Governor David Nweze Umahi, a man who like all humans is imperfect, but unlike many a man has within so short a time demonstrated an uncommon courage and political will to develop both Ebonyi people and Ebonyi land. My prophecy is that inspite of all permutations to the contrary, Ebonyi people should and will still vote overwhelmingly for Chief David Nweze Umahi come 2019!
Monday Eze is the Technical Assistant to the Governor of Ebonyi state on Social Media. Eze could be reached on [email protected] or 07017164723.
Disclaimer:

"The views/contents expressed in this article are the sole responsibility of the author(s) and do not necessarily reflect those of The Nigerian Voice. The Nigerian Voice will not be responsible or liable for any inaccurate or incorrect statements contained in this article."
Articles by monday eze