2017 Promises Oneness and Strength for Ogoni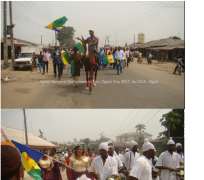 As Ogonis marked the 23rd Anniversary of the Ogoni Day, they have been reminded to keep their eyes on the ball.
In a brief remark, the president of Ogoni Central Indigenous Authority, OCIA, Dr. Goodluck Diigbo encouraged his fellow Ogonis to return to their villages; to fortify their self-government.
He told the celebrants, who had danced all day in Bori, the capital that they would reap what they have sown.
Let's make 2017 a year of oneness for the Ogoni people, and fulfillment for our nation.
He praised the celebrants for their unwavering optimism in difficult circumstances.
Diigbo had played a central role to organize the first Ogoni Day in 1993, alongside his closest associate, late Ken Saro-Wiwa.
In 1990, Ogoni proclaimed the Ogoni Bill of Rights to attain political autonomy as an indigenous people in Nigeria.
And on the 2nd of August, 2012, Ogoni declared self-government to enforce the United Nations Declaration on the Rights of Indigenous Peoples.
Celebrants from Babbe, Ban Ogoi, Bori, Buaba, Buanyon, Eleme, Gokana, Kenkhana, Nyokhana, and Tai provinces all joined in Bori.
Segments of celebrants led OCIA Deputy President, Hon. Mrs. Alice Nwinee, President of Council of Ogoni Churches, Rev. Sir Mike Ibirah, provincial governors led by Hon. Baribefii Godwin Mbeke of Bori, as well as leaders of the Ogoni National Legislative Assembly, danced around the town.
Other groups formed behind leaders of the Ogoni Central District Assembly, District Councils, Ogoni Civil Society Commission, Ogoni Human Rights Bureau, Civil Society Security Organization, and the horse rider, joined by the flute man.