GROUP EXPLAINS MM'S OPEN-DOOR POLICY FOR THE POOR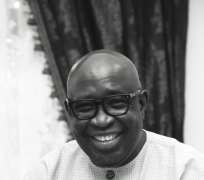 The attention of the MM Support Group (MMG) – the group responsible for the advocacy
and socio-economic programmes of Hon. Moshood Mustapha (the Special Adviser to the Senate President on Inter-Parliamentary Special Duties and Protocols Matters) – has been
drawn to the malicious publication by an online publication, nairaland.com on MM's charity
programme on new year day.
The online outfit had reported falsely that the Senate President, Distinguished Senator
(Dr.) Abubakar Bukola Saraki (CON) had turned his residence in Ilorin to a distribution centre
for charity during festive period.
As the media office of the Senate President has refuted, nothing is farther from the truth.
But we still consider it proper to put the record-straight.
The photograph that was attached to the false report on the Senate President was indeed,
that of the philanthropic programme of Hon. Mustapha at his Ilorin residence on January 1,
2017. Hon. Mustapha was visible in that photograph.
On new year day, the MMG, as it had done over the years, distributed food items and cash
to the vulnerable members of the society, especially widows and elderly women. At no point did any member of the group said that the programme, which took place at Hon. Mustapha's compound, was sponsored by anyone.
Hon. Mustapha has been doing this consistently for over 20 years during Muslim festivals of eid-fitr (Ramadan) and Eid-Kabir and the New Year. He opens his door for the needy and celebrates with them. This year, because he was at home on New Year day, he physically
and joyfully participated in the distribution of the gifts to the poor who appreciated his
disposition.
Knowledgeable people know that this consistent act of charity by MM is not for political purpose. It is a way of appreciating Allah's blessings to him by giving back to the society the bounties He, the Almighty, has bestowed on Honourable Mustapha. MM appreciates the Leader, the Senate President Abubakar Bukola saraki (CON) whose
charity knows no bound and who has encouraged his followers to always take care of the welfare of the down-trodden in the society.
MM is happy to compliment the Leader and,
like his mentor, his charity undertaking, is not for politics; he seeks only Allah's rewards.�
It is instructive that the MM charity undertaking has become even a state policy in our
country. Ekiti State has formalised what has become known as stomach infrastructure by
making provision for it in its budget. Some other states are following that footstep.
It is even more poignant that the Federal Government has embraced this grassroot-initiative through its N5,000.00 (five thousand naira) per head cash disbursement to the needy and the most vulnerable in the society.
There is no doubt that the naiaraland.com publication was orchestrated and sponsored by political adversaries but to such people, we say: Hon. Mustapha will not be deterred by
cheap propaganda and smear campaign. In Sha Allah, he will continue to give to and identify
with the needy and the vulnerable. Let the opponents do their own bit too and stop whining over the efforts of others.
The judgement and reward lie with the Almighty Allah. �
Signed
MOHAMMED SALIHU
MM Support Group