Buhari cannot Islamise Nigeria: Osinbajo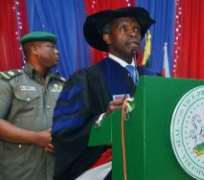 Vice President Yemi Osinbajo has urged faith-based organisations in the country to shun rumours that the administration of President Muhammadu Buhari is moving to Islamise Nigeria.
The rumours were further fuelled by the perceived lacklustre reponse  the incumbet administration to the killings in Southern Kaduna, where thee is a preponderance of Christian faithfuls.
During the 2015 elections campaign, the now ruling All progressives Congress fight very hard to ward off being branded as Muslim party .
It was against this background spoke on Thursday after receiving the Lifetime Achievement Award of the Student Christian Movement of Nigeria (SCM) in his office, that they should dwell on facts.
Before the election in 2015, Prof. Osinbajo spoke out that the APC was not secretly plotting to Islamise Nigeria if it won the election.
He again reaffirmed that stand stressing that the rumour making the rounds about plans to make Islam the official religion of Nigeria were unfounded as the country "can's be Islamised".
Osinbajo emphasised that it was impossible to Islamise the country given the 1999 Constitution that forbids state religion.
He urged religious bodies to channel their energies towards proffering solutions to the numerous challenges facing the country.
The vice president also challenged Nigerian youths to wake up from slumber and take advantage of abundant opportunities in  ICT, agriculture and other sectors.
While noting that the opportunities were far much more now than they were in the past, Osinbajo harped on the need for young people to take responsibility for their future and be creative.
He also emphasised the importance of using the internet to acquire knowledge as well as learning a second language to boost their global competitiveness.
Expressing appreciation to SCM for the honour, the vice president solicited the organisation's assistance in disseminating factual information about the Federal Government's policies and programmes.
Earlier, the National President of SCM, Rev, Eric Ighalo, commended the government for its social interventions  such as the N-Power initiative and the conditional transfer scheme.
Ighalo expressed the willingness of the body to partner with government in several areas including serving as government ambassadors in their constituencies.
The SCM national president said that the award was conferred on the vice president in recognition of his integrity and outstanding leadership he had demonstrated over the years.
The award presentation, according to him, climaxed the 75th anniversary of the organisation.