Don't 'rescue' GOP on healthcare replacement: Obama to Democrats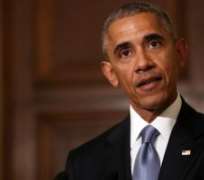 Although President-elect Donald Trump has yet to take office, the newly sworn-in Republican Congress is already taking steps to attempt to repeal the Affordable Care Act — while President Obama is simultaneously taking steps to try and preserve the law that's tied to his legacy.
Obama met with Democratic lawmakers on Capitol Hill Wednesday to encourage them to stay strong in the face of Republican opposition to Obamacare
Obama told the lawmakers not to "rescue" Republicans in their effort to overturn and replace Obamacare,  CNN  reports.
Obama "encouraged us to fight," Democratic Representative Elijah Cummings told reporters after the Obama meeting, per Reuters .
"In two weeks I will no longer be a politician, but I'll still be a citizen. I envy you so much right now, because I would love to be on the field," Obama also reportedly said.
"Look out for the American people," Obama also told a group of reporters after the meeting.
After their meeting, Democrats introduced the slogan "Make America Sick Again" to try and pin any future healthcare mishaps on the Republicans.
"The Republican plan to cut healthcare wouldn't 'make America great again,'" Senate Democratic Leader Chuck Schumer reportedly said after the meeting. "It would make America sick again and lead to chaos instead of affordable care."
Obama's meeting comes on the very same day Vice President-elect Mike Pence met with Republican lawmakers and declared that repealing the 2010 law is "the first order of business" for the Trump administration.
"The first order of business is to keep our promise to repeal Obamacare and replace it with the kind of healthcare reform that will lower the cost of health insurance without growing the size of government," Pence said at a news conference alongside House Speaker Paul Ryan, Reuters reports.
Although the pair offered few details on what an alternative Republican plan might entail, Ryan said that their proposed changes would not "pull the rug out from anybody."
Meanwhile, Trump took to his favorite medium — Twitter — to weigh in on Obamacare Wednesday, warning Congressional Republicans in a series of tweets that they should not "let the Schumer clowns out of his web.